Brick Driveways
by Scott G.
(Seneca, SC)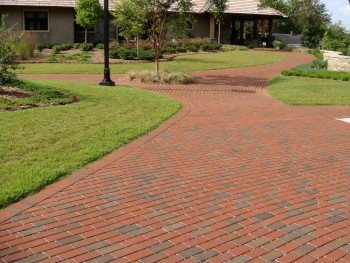 Pine Hall Brick Permeable Clay Paver
Here's a question about brick driveways and using them on an area that is steep.


I was thinking of redoing my driveway in a tight brick design. But am concerned about traction because of the steepness. Do you feel sticking with poured concrete and trimming in brick or cobble stone is a better bet?
ANSWER
Hi Scott,
Brick actually have very good traction. I like it so much better than concrete. I would go ahead and do it.
I don't know how long your driveway is, but designing it with all brick can get costly. But concrete can crack. You can create some interesting designs using a combination of brick and other materials, such as asphalt,
tar and chip
, or loose stone.
Driveway aprons
,
edgings
and
combinations
(discusses and shows pavers but brick can also be used) are possibilities.
One brick company I like in particular is Pine Hall Brick. They have many choices and I have used some of them. They also have now come out with Brick that is permeable (shown in picture above).