Patio Idea With Waterfall and Outdoor Kitchen
This patio idea began with the clients wanting an outdoor kitchen. The kitchen was to include an outdoor grill, counter space for working, storage, and last but not least…a pizza oven! There was also a cut out created for the wood that would be used for this pizza oven. 
The existing slope in the area created both challenges and opportunities.
1. The outdoor kitchen island was also able to work as a retaining wall. This was a nice to have and plants were added at the top of the wall which softened the wall tremendously.
2. A water feature with multiple waterfalls fit in perfectly, as the water traveled down and around the slope. So the clients wound up with a pond right at the patio...both peaceful and captivating!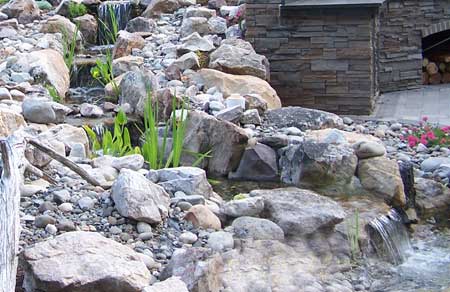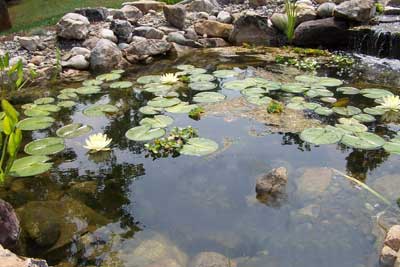 The stone facing of the outdoor kitchen island and the patio pavers were selected to compliment each other. The wall has a thermal bluestone cap on the top. You can tell it is thermal when the edges are rough and wavy, as in the photo. In addition, waterfall boulders added to the natural looking design.
The water feature with its tumbling waterfalls and variety of stone ends up in a pond at the patio edge. The pond accommodates water plants, including water lilies, and also fish.
You don't need a slope to have a patio pond. It can be designed as part of your patio, joining it at one of the edges. A gentle waterfall can be created. I say gentle since you want it to look natural. Another idea would be to include a fountain or bubblers in the center of the pond.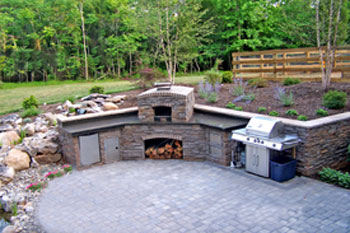 This outdoor kitchen design includes a pizza oven with a storage place for wood. Please visit my page on outdoor kitchen island to watch a funny and informative video of a pizza oven! It will make you smile.
Plants were selected to provide lots of summer color, since that was the time the area was most used. Ornamental Grasses, Coneflower and Russian Sage were just a few of the perennials used. We also used River Birch, as they look great near water features.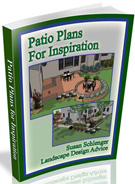 Patio Plans For Inspiration 
You can see many patio plans that I did for my clients in this book, including outdoor kitchens and patio ponds. Both 3D and plan view designs are shown so that you can use them or get ideas for your own project. Explanations are also provided.
Consider a Professional
Online Landscape Design
Unique Services Throughout the US and Canada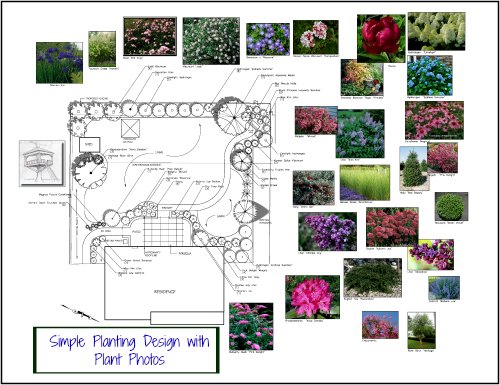 "Susan, what a pleasure it was to work with you. You made me feel like I was your only client - responding late at night and always so quickly! Your design is amazing and we only hope we can do justice to it when we plant . You have such fantastic ideas and you are so open to suggestions and changes. Loved working with you - now if you could only come to Canada and plant it !!! "
Helen, Ontario-Canada 


If you enjoyed this page, please share it!

Landscape Design Advice

>
Landscape Designs
> Patio Idea