Patio Pave Choices - Bluestone?
by George Souza
(Billerica, ma)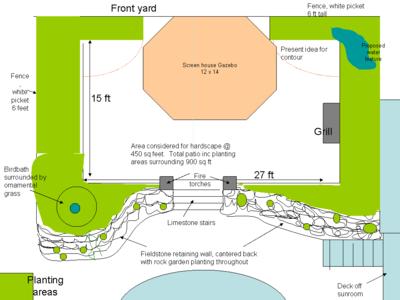 Patio Paving Layout
I purchased the home I grew up in in 2009 after my Mom passed. We have been in non- stop renovation since becuase little was done since president Johnson was in office (LOL). We have been dividng our time and money between outside and inside. My folks put in an inground pool in 1981 and it is surrouded by a concrete deck which is in excellent shape even after 25 years. ABove the pool area is a rasied patio area that used to have a slate floor. I think its slate, but I don't see this product anymore. Each piece is approximately between 1 x3 feet to 2 x 3 feet wide and from 1/2 inch thick to 1.5 inches thick. I noticed on the sides of this material that it tends to cleave. I was told that it needs to be set in a motar bed. My dad, when he laid it just laid it on a sand bed and motared in between. It lasted about 15 years, but then the motar started to crack and by the mid 1990s it was a mess. By the 2000s a small field had grown up.


When my wife and I bought the house we tore it all up, regraded the area and put up a new fence. we had hoped to reuse the slate but found it impossible to lay in the newly screeded sand bed we made. They just seemed to thin and too irregular. We have it piled up in back and hope to sell it. I am not sure how much its worth.
We are not sure what to use. We are on a budget and have limited time. I have been reading up on everything from concrete slab to bluestone and everything in between. We had considered fired clay brick since we have a new white fence, and live in a Cape Cod style house. It looks very traditional. However, it will cost about 2500-3000 for thr 500 sq
feet we are considering hardscaping. Concrete is about 1/3 less. We are even considering the "Walkmaker" from quikreete where we pout our own concrete into a mold.
One thing we are having a hard time matching is to the natura; field stone wall between the patio area and pool deck. We rebuilt the wall using orginal stones that were there./.opnly better. What pavers would match natural field stone, the white fence, the concrete pool deck etc.
ANSWER
Hi George,
Not considering cost for a moment, have you looked at the pavers that look like bluestone made by Techo-Bloc? They are "square", so easy to lay and really do look so much like bluestone that I was fooled at a client' house last year.
Bluestone Pavers
I think they will cost you around $6 - 7/sf, so not that much different in cost than brick. But you will have less joints to deal with.
You might be able to get real bluestone cheaper than that, but you have to be more adept at laying it, since it often needs to be saw cut to make some of the pieces straight/square.
The full range bluestone might look nice if the colors go well with your wall. That is often an issue since many natural stone walls have different colored stones in the mix.
This of course gives it its charm, but makes coordinating colors more challenging. However, a solid blue or "all blue" bluestone would most likely go very well with everything. You'd have to get some samples of both and look at everything together.
I am not sure of the exact color range of the bluestone pavers from Techo-Bloc. Again, I would get some samples.
For a straight paver, there are some grays that would probably work or even some tans.
Pavers
That would depend on the colors in your stone wall. The only way you will know for sure if something will ultimately look well with everything else is to bring home samples.
Susan