Paver Patio Versus a Deck
We are trying to decide whether to build a deck or install a patio with pavers off the back of our house. What are the price and long-term maintenance differences between the two options?
Thanks.
Krista
ANSWER
Hi Krista,
Pavers have almost no maintenance. With a deck, unless you use one of the synthetic materials, there is always maintenance.
The cost difference will depend on if the patio is raised off the ground or pretty much at ground level. Pavers are less expensive than decking per square foot. However, once you have a raised patio, there are side walls to be installed as part of the structure. This raises the price. so the cost difference would depend on how high up off the ground the patio is...plus paver steps add on to the cost too.
I prefer pavers. I like the look and the fact that there is no upkeep. In addition, there are so many different patterns and colors to choose from so you can get quite creative.
See these two pages:
Deck Ideas
Patio Designs
If you have further questions or want to provide more information, just post here under the Comments section.
Susan
Join in and write your own page! It's easy to do. How? Simply click here to return to A Question.
Patio design (back yard) and possible driveway enlargement.
by Frank
(Northern NJ)
We have recently purchased a small house in northern NJ and we would like to create an outside patio. We are new home owners and are clueless in regards to a practical design that meets our budget (i.e design, functional, price, options, etc.). As such, I do not know where to start. Are there web-sites to look for ideas? Should we ask a profession for an consult? Would a consultant be just a landscaper?

I would like to have plan in place now so we can start as soon as the weather breaks.

Frank

ANSWER
Hi Frank,
As a designer, I always believe someone should work from a design. What type of designer you need would depend on how intricate your space is. If you just have a flat area, that's one thing. However, if you have some grade changes where steps or retaining walls are needed, a good design can make a big difference!

You can look at websites for ideas but whatever you like must be appropriate for your landscape. For example, you might see a brick patio that appeals to you...but does this look right with your house? Or perhaps you see some great seat walls, but do these fit in your budget?

I would suggest looking online or in the yellow pages for some landscape designers or landscapers that have designers on staff. Take a look at some of their projects and discuss different types of materials and costs.

As a guide, a small to medium sized patio would be 15 feet by 15 feet. You can then take some material square foot prices and multiply by 225 sf. For example, pavers might cost $12-15/sf, for a patio cost of about $2700 (at the low end). Then you might have some re-seeding of the lawn and plantings. Plants, can be phased in at a later date if you like.

Concrete would be less expensive, bluestone would be more and so on. Have you looked at my page on paving costs? This will give you some material costs information.
Paving Costs

If you have further questions, let me know. Good luck!

Susan

PS. I do provide online designs.


Join in and write your own page! It's easy to do. How? Simply click here to return to A Question.
gray pavers | patio | pool
by Fawn
(Ottawa, Ontario, Canada)
Hello,

We just had a patio done with gray pavers. The area is about 16 X 20. We also have a pool beside the patio which has yet to be surfaced. Our problem is that right now, all the gray pavers makes our backyard look like a concrete slab/parking lot.

What colour choice(s) can you recommend to match with gray pavers?

Thanks very much for your time.

Fawn Carter

ANSWER

There are many paver colors that look good with gray. You might use tan, rust, brown, etc. I think the key is to tie it all together. You might do this by adding the gray pavers around the perimeter of the pool paving with a double row. If there is a large area of pool decking, how about adding a circle kit of the gray? Or you could use both of these ideas.

I would go to the paver supplier and bring home some colors that you like. Look at them in your yard and see how they look with the gray color. Obviously some will look better than others. Sometimes the paver companies have showrooms showing different colors together. You can also look on the website of the manufacturer (which company did you use?) to see their ideas.

Susan
Join in and write your own page! It's easy to do. How? Simply click here to return to A Question.
Flagstone Patio and Window Wells
by Dan
(Va.)
I am in VA and am having a flagstone patio installed on a 4" concrete slab.

The patio was initially going to be against the house. However, there are 2 basement window wells there.

I wanted to know if you had any creative ideas to deal with these. Is it best to not bring the patio flush with the house, or is it more stable to do so?

If brought to the house, would you keep the window wells but just face them with flagstone/stone to make them look better, or remove them all together and drop grade so that the window sill is at least 6" above the patio?

trying to find creative solutions.

thanks,

dan in va

ANSWER

Hi Dan,

Here are my thoughts:

1.If you lower the grade 6", you almost have to build a 6" wall from the top of the patio to the bottom of the window sill...and also along the rest of the patio since it will now be below existing grade. I feel this is a lot of unnecessary work and adds on additional costs.

2. I don't think facing the window well with stone will look right. It will look like a stone box..if I am understanding what you are inferring.

3. As far as whether you should bring the patio up to the house (and wells), it doesn't really matter, as long as the patio is pitched correctly away from the house. In your case I would do a minimum of 2% or 1/4" per foot.

So I would suggest not bringing the patio up to the house. There are two ways you could do this. Leave a planting bed along the entire patio length up against the house. Or better yet, create some cutouts around the window wells for plants. Make sure they are just not skimpy beds around the wells, but extend them further on each window well side and also out in front of the wells. Make it large enough to be interesting and be able to add substantial sized plants...18" - 3'. You can use perennials, shrubs, or both.

This gives you the opportunity to create some softness with plants between portions of the patio and house. And just as important, you can choose plants that will hide or camouflage the wells.

This is a good solution, would look great, and also save you money!

Susan


scoring a concrete patio
by Laura Newman
(Middletown, CT, USA)
Hi.I have a question about scoring a patio. I was reading through your section on making a concrete patio. You suggested coloring the concrete (like that idea!) and also scoring it to make it look more appealing. I am a single mom who just bought a house and would like a patio made for the back. I don't have a lot of money and come from a family of do-it-your-selfers. Is this a project that the guys (and myself) could tackle? Where do you get the color dye? How do you score it into squares? I was reading something else that suggested some kind of saw after it was set. There has to be an easier way before it sets!

Any advice would be greatly appreciated!
Thank You.
Laura (and Chase.. 3 1/2)

ANSWER

Hi Laura (and Chase),

Unfortunately, my expertise does not lie in concrete installation. I think it's one of the more difficult installations for someone to tackle themselves. You need to lay down a stone base (as with most hardscape installs), pour the concrete, have knowledge about construction joints (concrete can crack), make sure its level, etc. It's something I would never try!

If you want to create and install something yourself, you might consider laying down slabs of bluestone. You could have a lot of fun with this, get some great shapes and colors (in the blue family), and plant in between with low growing groundcover type materials. This would be dry laid.

In this application, you lay the base, lay some sand down, and just lay the stones on top, making sure they are level. Of course I might be simplifying things a bit...but not much. I would even like this for my clients or myself!

I hope you don't mind my being negative about the concrete, but I think concrete is best left to the professionals.

Susan
Join in and write your own page! It's easy to do. How? Simply click here to return to A Question.
paver patio for hot tub... on a retaining wall base
by Jesse
(Minnesota)
I'm trying to create a patio for my hot tub.

I would like the patio, on which the hot tub will sit, to be a few feet off the ground level of our yard. I was considering building a square retaining wall enclosure, which will have steps leading up to the top, where I would like to possibly use pavers to create the level surface for the hot tub to sit on.

The hot tub needs to sit on a level surface which is causing me problems as I have always had a slope on my paver projects so that water would drain. I've heard of permeable pavers but still need ideas on how to deal with water drainage using those. Any ideas would be much appreciated. Thank you.

ANSWER
Hi Jesse,
Permeable pavers are good to use as they are good for the environment. Water seeps back into the ground through spaces between the pavers, replenishing the earth.

However, all outdoor surfaces, even lawn, needs to be graded, particularly away from the house. I don't believe that using permeable pavers on a completely flat surface will prevent possible water problems.

I don't know the grade of your land or where your house is situated in relationship to where the hot tub and lower area will be. Without knowing that, here are some possible grading solutions:

1. Grade the pavers on which the hot tub will sit away from the house.
2. Install a pipe along the wall to collect any water that might drain to or along the wall and lower area. Connect this perforated pipe to a solid pipe, leading the water elsewhere on your property.

There is always a solution for drainage. It just depends on your particular property.

You might want to take a look at these two pages on drainage:

Landscape Grading

Retaining Wall Drainage

If you have further questions and need more input, let me know. If you would like to send me a photo of the area, just submit a new question where you can do that.
Join in and write your own page! It's easy to do. How? Simply click here to return to A Question.
Patio Ideas | Existing Deck and Paver Patio | New Landscape Design
by Julie
Here's a question about what to do with an existing deck and patio as a new design and ideas are desired.



I'm interested in your thoughts about how best to approach our landscaping/patio project this spring.
We currently have a 9' by 25' deck that needs to be replaced. It's separated from a patio (pavers) with a 9' circular insert and horseshoe shaped retaining wall. We also have a fairly long walkway built from pavers (concrete, I think).

We thought about replacing the deck and current patio/walkway with a 2-level bluestone patio. We also need to extend the entire area to add space for an outdoor spa and bbq area. We have a budget of about 30-35k, so I'm wondering if what the most
cost effective strategy would be.

I'm open to possibilities--I don't really care for the pavers (weeds always come through), but I'm not sure if it makes sense to dig it all up and start over. We plan to hire a designer to help. Thanks in advance for your thoughts and advice on possible directions.


ANSWER
Hi Julie,
Thanks for contacting me and visiting my website. I'll try to help.

I am wondering how high up off the ground your deck is. A two level bluestone patio can be costly since sidewalls are needed. The higher the patio, the taller the walls, the more expensive.

Since the deck needs replacing and you don't care for the patio, I would start over again. You'll be spending a lot of money so you might as well get something you love! Here are some hardscape concepts to consider.

1. Two level bluestone patio.

2. Two level new paver patio. My first choice is
bluestone, and although you don't care for the pavers, some of the pavers of today can be attractive...very stone-like in appearance and also less expensive than
bluestone.

**By the way, you have the choice of doing dry laid or mortared bluestone (even though the surfaces are raised). Dry laid is less expensive.

3. New deck with lower patio.

4. Multi-level deck.

You might like to visit these pages with paver patio pictures and other great information:

Paver Patios

Paver Patio Pictures

If you are very high off the ground, perhaps the deck and patio or multi-level deck would be nice. If you are not that high off the ground, a two level patio made from bluestone or pavers could be the way to go.

Dry laid bluestone should cost around $22 per square foot (dry laid), while pavers would run about $15/sf. If you have two patios (just an example) and each is 18' x 18' (of course one could be smaller than this) you are talking about 324 sf per patio, 648 sf total. 648 sf x $22/ sf = $14,256. But then you have the sidewalls, demolition of
existing hardscape, plantings, etc.

Some of this was theoretical and some was practical, but I hope it helped you a bit. If you need anything further, just let me know!

By the way, I do many online designs for people who do not live in my area.

Susan


Join in and write your own page! It's easy to do. How? Simply click here to return to A Question.
Concrete Patio and Borders|Edgings
by Robert Johnson
(Benton, KY USA)

We have a concrete patio that is 30' long and 16' deep. We would like to put some kind of border around it to soften it a little. Could you give us some suggestions? Thanks!

ANSWER

Hi Robert,
You could do a few different things. The simplest would be to edge it with concrete pavers, brick or even bluestone. The correct way to do it would be to follow the acceptable Paver Installation method.

I would lay the pavers or brick perpendicular to the patio so that they form a wider border.

If you want to use bluestone, since these are larger pieces of hardscaping material, you could lay them alng the patio edge right in the adjacent lawn (assuming the lawn is there). You could create softness by planting in between the bluestones with low growing plants, such as sedums or thyme.

The bluestone could be geometric shapes or free form. You could even add a really large piece here and there for fun. Stand an urn on it with a pretty draping plant!

Susan
Join in and write your own page! It's easy to do. How? Simply click here to return to A Question.
Patio Expansion - Adding Pavers Onto Concrete Patio
by David Skelding
(Indianapolis, IN)
Patio - Existing Concrete
Hi Susan,

First of all, wonderful site. I have found a wealth of great info here. Keep up the great work. My question today is regarding expansion of our existing patio.

As you can see from the picture, we have a pretty standard concrete slab patio. It sits about five inches above the grass. I have been considering using concrete pavestones to expand the area. Do you have any suggestions for a good way to go about dealing with the five inch height difference of the current patio? I've thought about just placing the pavers at around the same level as the current ground (once excavated and base is laid) and having a step down, as we have now. Would it look strange if I tried to match up the level of the patio with the new pavers? Should they be sloped to wind up at grass level? Or would it be ok to have a step down into the grass where the pavers end? Also, are there any things to watch out for when laying pavers next to the existing slab or foundation of the house?

Thanks so much for your insight. Please feel free to include any other suggestions or thoughts you may have, as we are open to any and all ideas for the project. We live in central Indiana by the way, so not sure if there are any special soil issues at hand here.

Thanks again.

David

ANSWER

Hi David,
First, thanks for your nice compliments about my site. I'm glad you are finding it helpful.

I think a step down to an extended paver patio area would be fine. Typically, I don't like to create just one step...I usually design a minimum of two because one step can be a tripping hazard.

However, since you would be changing materials, a visual "partition" would be created, so I think it would be OK. A step can be anywhere from 4" to 8" high.

The only problem I can possible see is with grading. You want the new patio area to drain away from the existing concrete patio at 1/4 inch per foot. Your property seems very flat, yet the water must be directed correctly. You may have to re-grade the lawn away also.

If the grading is an issue, I would make the top of the new patio level with the concrete one. Grade it away as mentioned above...1/4" per foot. You'll just have to work that out with the bottom of your fence and gate heights.

So it really comes down to drainage...how boring! You need to determine in either scenario if you can get the water to drain properly and what that entails...take the more functional route as either design will work. If you make the patio the height of the concrete, add a border around the entire patio.

I noticed a gate off the patio. It might be nice if you extended the patio to the gate, but created a rectangular cutout in front of the fencing adjacent to the concrete area. Here you could add plantings. This would do two things.

1. It would create softness up against the fence.
2. It would form a logical connection between the gate and the new and existing patio. The cutout could be the length of that fence section and maybe 18 to 24" wide...just enough for some nice colorful perennials.

Good luck with your project.
Susan

Join in and write your own page! It's easy to do. How? Simply click here to return to A Question.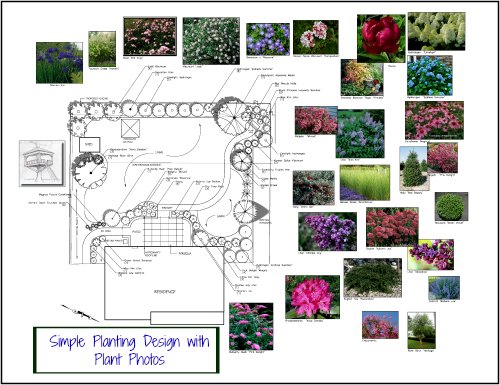 If you enjoyed this page, please share it!