Landscaping in front of house
by Suzanne
(Kansas City)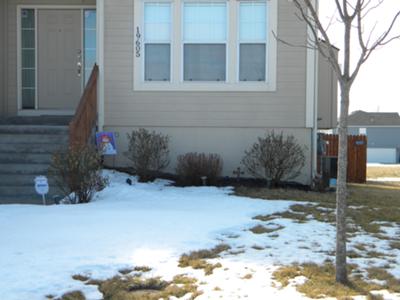 Front of House Landscaping Help
Hello. We are going to re-do the landscaping in the front of our house and need some help.


We are taking out what is there now and have figured maybe some Green Velvet Boxwoods would be nice, but that is as far as we have gotten. We were thinking maybe some perennials in front of the Boxwood, but are not sure what would look best.
We would like to kind of camoflauge (sp?) the gas meter since it sticks out because there isn't a house next to ours yet. What kind of suggestions do you have that would make this area look more appealing? Thanks so much for your help. The house faces North BTW w/clay soil.
ANSWER
Hi Suzanne,
I like your idea of using Green Velvet Boxwood as the background layer for the foundation plantings. There are a few things you can do in addition to make the design creative and striking.
I can't see the left side of your house, so I am not sure if you are going to address that area also or not.
1. The area to the right of the steps is not that long, so I think one group of Boxwood would be enough. In front of these, I would place lots of perennials for color. Place them in groups of three or more.
2. Add something tall on the corner. This could be an ornamental
tree that does not get too wide or one to three large shrubs, such as Lilac (check your plant zone...this is just an example although I think they would look nice). This will provide some height at the corner to help frame your house. Ideally you should also have some height at the left house corner also.
3. You mentioned that your house faces North, so will not get all day sun. However, if you get at least a half a day, you can use perennials that do well in sunny conditions. If you get three hours of sun or less, use perennials for the shade, such as Hosta, Bleeding Heart, Astilbe, etc.
4. As far as the side of your house goes, you might consider Blue Holly China Girl or you can even go taller with Blue Princess. Add some perennials (tall ones such as Coneflower) in front of these. They are both evergreen and should be the height needed to hide the utilities.
You might find the following helpful.
1.
Perennial Flowers
- This is a page on my site showing my favorite low maintenance perennials with photos.
2.
How to Landscape
- lots of professional tips.
3.
Designing With Evergreen Shrubs
- an ebook discussing some of the best evergreen shrubs to use along with each plant's information, some photos and tips on using evergreen shrubs with perennials.
I hope this was helpful.