Landscape Small Yard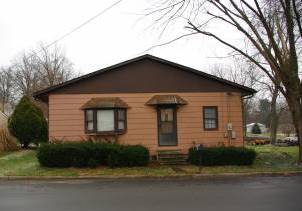 Small Yard Front Landscaping
Here's a question about how to landscape a small front yard.


We recently bought a house to flip. The front needs major help and we aren't sure what to do. The front yard is minuscule and the door is about 4 steps up. We want to take the steps out but aren't sure how to make it look good. Any suggestions would be appreciated!
ANSWER
I see you have a very small front yard! However, that doesn't mean that it can't be made to look attractive and charming.
From the landscape photo it appears that you just step down onto steps. This does not provide a very secure feeling as you step out of the house. It's also unattractive, so I would suggest the following.
Create a landing approximately four feet by four feet. Step down from the house onto this landing(one step). The landing should then have three additional steps leading down to your property. Depending on the zoning laws of your area, you might need a railing on the porch, continuing down the steps.
You can use pavers as a paving material on both the landing and steps. That will warm it up.
You didn't mention where the house is located so I don't know what planting zone the property is in. So generally, I would add a tall shrub, such as a Lilac at the left hand corner of the house. If the shrubs are in good condition, you can leave them. If not, replace with other evergreen shrubs appropriate for your zone, ie., Boxwood 'Green Velvet'. In front of the shrubs (whether you replace them or leave the existing ones) plant some perennials for color.
Is there a garage? Is there street parking? Ideally you should have a walkway leading from where the cars park to the front door.
Good luck! If you have further questions, please let me know.
For more help, see my ebook
Designing Front Yards
.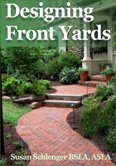 Join in and write your own page! It's easy to do. How? Simply click here to return to A Question.
Adding more pop to the front landscaping
by Peggy
(Upper Sandusky, OH)
Farm house in need of front landscaping

I bought this 100+ yr old farm house. When I bought it there was nothing for landscaping other than white marble rocks around the parameter of the house. I dug all those up and had 40 tons of topsoil delivered.

I now have flower beds (about 3' deep) around the house but it just doesn't do enough for the front. I would really like to increase the size of the beds and add some dimension to it.

Normally I know the corner has a larger tree to anchor it - but my problem is that is where the satellite dish is installed, so I can't have anything that will be over 3' there. Also the front door is rarely ever used, but thought about building a larger 'porch' area to be able to add a rocking chair or something to give interest. I live in NW Ohio.

Also you can't see by the photos but there are 2 very large maple trees in front of the house - and its south facing so the beds get a full days worth of sun. Any ideas would be helpful as I plan to sell in a couple years and really want to give the house more curb appeal. Thank you!

ANSWER

I agree, that your front landscaping needs more "stuff" or "bulk.

I can't quite see where your satellite dish is, but trees make a big difference. If you could place a tree near the corners, out of the way of the dish, that would help tremendously. Could you send another picture? Just start a new question with mention of this post.

Place ornamental trees at all of your house corners if posible. Birch trees are a good choice, anywhere from one alone or three together. Dogwoods, Japanese Red Maples, and Purple Leaf Plums are good ones too and they will add color to your neutral colored house.

I would add evergreen shrubs to the planting beds as the first layer against the house. Boxwood 'Green Velvet' or Blue Holly 'China Girl' would work. Then add a layer of shrubs in front of these, such as Juniper or others, and finally a layer of perennials in front for textured interest and color.

The evergreen shrubs should be in groups. For example, under the larger window to the left, you could use all Boxwood.

Perhaps a Lilac at the corner of the steps would add additional interest. Make the beds curvilinear. If you need me to draw it up for you, let me know through the Contact Me page!

Susan


Join in and write your own page! It's easy to do. How? Simply click here to return to A Question.
Front Yard Landscaping and Driveway
by Deb
(British Columbia, Canada)
Front Yard Landscaping and Asphalt Driveway
This is a question about front yard landscaping and driveway design.

I don't know what to do with the front yard of my first-ever home purchase - it's literally an asphalt driveway! I've never seen anything quite like it. The front of the house needs softening, and it definitely needs a yard! Where do I begin? The posts are painted red-orange, and I'm thinking I should paint them, and the garage door, white, maybe add a railing, add some baskets and wicker furniture by the door... but what to do with the driveway asphalt?? I've searched for ideas, and can't find an image of any that fits this situation!

ANSWER

Hi Deb,

If this were my home, the first thing I would do is remove some of the asphalt. Do you have on street parking? I really can't see any reason to have all that driveway asphalt. It looks like a parking lot rather than a home.

I can only guess at the space and dimensions, but it appears that if you removed the asphalt from the left of the front door over to the right (all of this!) that you could park two cars sided by side and also two more behind them. That would allow parking for four cars on what remains of the asphalt driveway.

I would then add a pretty hardscape material, such as bluestone, leading from the driveway to the front door. This would allow for a planting bed up against the house to the right of your doorway. The remainder of the space where the driveway was can be lawn.

As long as you are removing asphalt, I would also remove a strip up against the house to the left of the door and plant there also.

This will soften your entire landscape. You will have more greenery and color, rather than a mass of black hardscape!

You mentioned wicker furniture. I would guess that this is because that you wanted to work with the asphalt that is currently there, but would you really enjoy sitting there?

This is where I would start before I did anything else. You will see that it will make a HUGE difference in the look of your home and property.


Join in and write your own page! It's easy to do. How? Simply click here to return to A Question.
Front Porch Landscaping
by Rebekah
(North Alabama)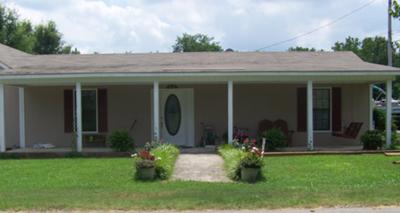 Front Yard Landscaping at Porch
Here is a question about front porch landscaping which I get now and then. The challenge is that the porch is low.

We have a long front porch on our ranch style home. My husband is going to build some straight landscaping boxes in the front and I would like your advice on how to landscape here. We have two small children who come and go off the porch regularly so it doesn't need to be crowded or tall but I wasn't sure how to group things so that it doesn't look monotonous due to the longness of the front.

As you can see in the picture, it is divided down the center by a sidewalk which is lined with monkey grass. I had thought of dividing the monkey grass and edging with it but I'm afraid it will be too much. We are working with a pretty small budget so any ideas yo might have would be helpful. I would prefer mostly evergreen varieties, especially since the monkey grass is not very attractive in winter. Thank you for your help.

ANSWER

Hi Rebekah,

If you are looking for evergreen plants, you might consider using Plum Yews in groups along the porch on either side of the entry. Probably 3 to five on each side would do it. All evergreens can be monotonous too, so why not add some perennial flowers for color and textures? (You can see varieties and pictures on this page.)In addition, perennials are less expensive than evergreen shrubs. The perennials can be placed on either side of the Plum Yews. Leave a small stepping stone in the bed of your front porch landscaping for the children or have them get used to using the walkway.

If you want some additional evergreen shrub ideas, take a look at my ebook Designing With Evergreen Shrubs. It also shows how they can be used with flowers.

I would also add some tall shrubs or trees. Some ideas would be one shade tree or ornamental tree out in the lawn, a small ornamental tree at the house corners, or one tall shrub/small tree just to the left or right of the front door placed in the curve of the bed. Crapemyrtle, Dogwood, Star Magnolia, and Rose of Sharon would be some considerations.

Join in and write your own page! It's easy to do. How? Simply click here to return to A Question.
Consider a Professional
Online Landscape Design
Unique Services Throughout the US and Canada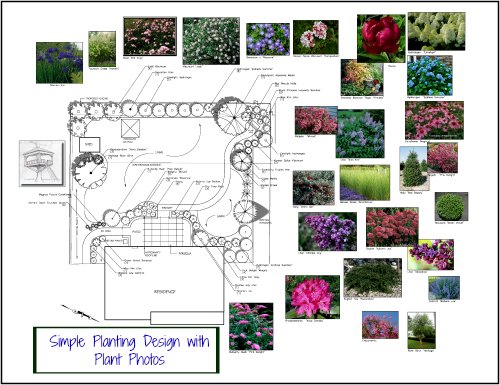 "Susan, what a pleasure it was to work with you. You made me feel like I was your only client - responding late at night and always so quickly! Your design is amazing and we only hope we can do justice to it when we plant . You have such fantastic ideas and you are so open to suggestions and changes. Loved working with you - now if you could only come to Canada and plant it !!! "
Helen, Ontario-Canada 


If you enjoyed this page, please share it!