Creating Formal Garden Designs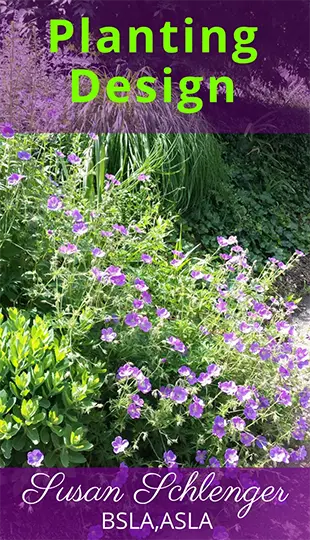 Get your free planting design guide!
Although entire properties can have formal garden designs, you can also just have an area with this type of landscape.

It might be the entry way to your front door using hedges, walls or fencing. Perhaps there is a courtyard. Formal designs can also be used in your backyard for rose or perennial gardens.

These types of gardens are usually made up of geometric shapes, whether they be straight or curved.

However, the plantings can be formal or more naturalistic as often seen in English gardens.

Take a look at some of my project pictures below to see how formality can be used.





Formal Garden with Brick Walkways

This formal garden design is made up of old brick walkways, old roses and a central sculpture. While the paths are straight, the sculpture sits on a circular paving design. It won an award from the NJ Nursery and Landscape Association.


There are different ways to create formality.
Perhaps you want some pretty geometric walkways with either perennial flowers, shrubs or both. A bench or other feature can be added.


A vegetable garden can also be created in a formal way with straight walks, with or without raised beds.


A patio can be have this type of feel to it, emphasized by walls or plants. A focal point in the center or in another prominent area adds to the formality.


Your driveway entry can be formal too.


Consider a front courtyard.


Related Pages
Walkway Designs
Evergreen Shrubs
Landscaping Ideas

Pictures
Project Photos
Patios
Walkways



Circular Driveway Courtyard with Cobblestones and Fountain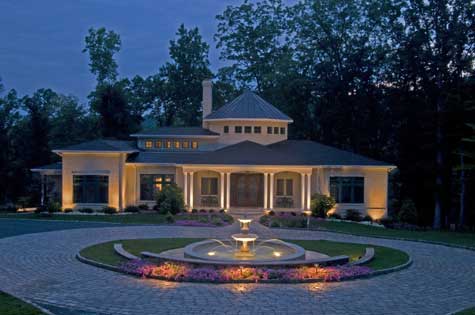 This driveway courtyard and striking fountain shows a formal entry area. Granite block was used in this area, although the rest of the driveway leading up to this area is tar and chip. The entire driveway has granite curbing.



A Formal Landscape with Walkways, Plantings, and Sitting Area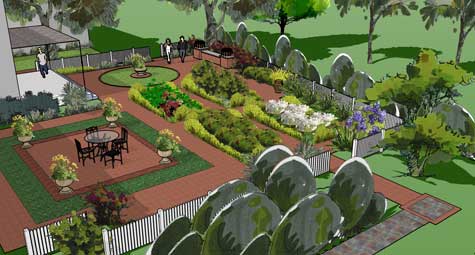 Clients wanted an English formal garden. Brick walks divided by planting beds and a nice sitting area are all part of the design. Planted urns are used as focal points.

Low white decorative fencing frames the area with multiple gates.




Front Courtyard Design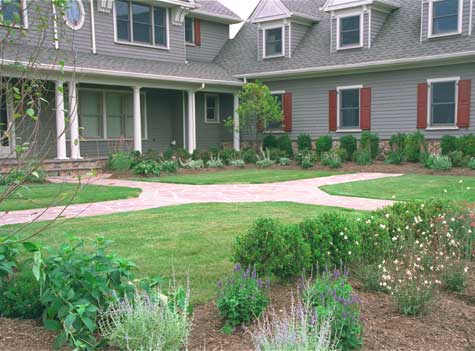 Walkways were crossed to create a front courtyard. A bench was to be added at one end with a water feature at the other end. Boxwood were used as the first layer in the foundation planting and then perennials were added in front of them.



A formal garden design is typically balanced although this is not necessary. Picture some paths with a large circular sitting area off to the side. This is structured, but not the same on both sides. Think of geometry rather than winding paths. However, sometimes a curved path within the design can add interest without taking away from the intent.
Although almost any material can be used for walkways, I would stay away from stepping stones and irregular shapes which give a more naturalistic appearance.
Any plants can be used, from formal Boxwood to very loose perennials, as long as a structured hardscape design is present.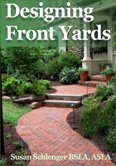 If you are looking for more help with your front yard landscape, please take a look at my ebook which I wrote with my clients in mind.

I discuss how to use plants with professional tips on placement and much, much more. The link to here will take you to more information on the book.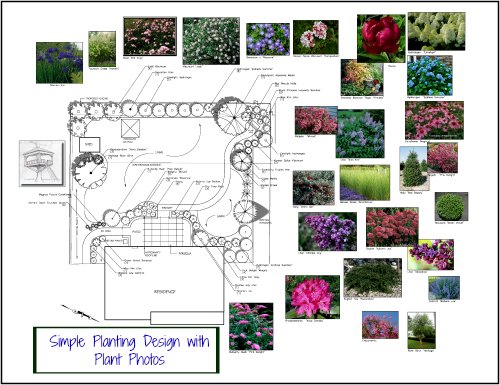 If you enjoyed this page, please share it!


Return From Formal Garden Designs to Front Yard Landscaping Ideas
Landscape Design Advice Home