Decomposed Granite Driveways | Tar and Chip Driveway Paving Materials
by Phillip Birchall
(Victoria)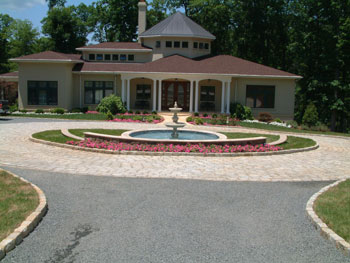 Tar and Chip Driveway With Circlular Driveway
I am looking for a product to mix into the decomposed granite to assist with preventing a sloping driveway from continually eroding every time we get an reasonable rain.


I have heard of a liguid based product that can be mixed into the material prior to spreading and compacting.
Thank you for your assistance in advance.
Look forward to hearing from you.
Phillip Birchall
ANSWER
If you visit my page on
decomposed granite
you will find a detailed explanation of the different types of applications. As far as the specific material that you mix in, I would contact Kafka Granite and speak with them about this.
Another option you might consider and I actually prefer would be
tar and chip driveways
. This will provide a rustic driveway appearance and will harden over time. Therefor it will be fine for a sloped driveway.
While decomposed granite is very granular, tar and chip driveways have larger stones. Above is a photo of one of my projects where tar and chip was used. It has a great look and functions well.
I like decomposed granite but I feel tar and chip is better for driveways. If you are in the planning stages, I would suggest you choose the tar and chip over the decomposed granite for your driveway paving.