Pool Fence Ideas
by Brenda
(Suffern, NY)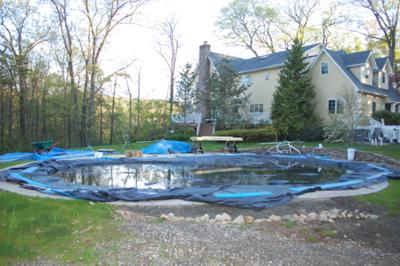 Pool Fence Ideas - Fencing Around a Swimming Pool
This is a question about pool fence ideas and fencing around a swimming pool, ie., various options.
We just put in a free form pool and my husband doesn't want to fence it since our yard is fenced. we have 2 children ages 3 & 6. I really want an aluminum fence around the pool. It can just follow the shape of the pool and I feel that it would look fine. The fence around the perimeter of our yard is a wood 3 rail fence so it pretty much blends into the yard. I wasn't thinking to leave grass in the pool area bc I don't want the fence up to take up too much space. Any suggestions?
I am attaching some photos. We are still not done with our project so I know it may be hard to figure out the layout of the yard, but any advice would help. Where the blue tarp is with the wheel barrow on it is where the pool house will be. I thought the fence would come around the edge of the pavers and then to the side of the pool house and then continue from the other side of the pool house and then around.
Thanks. Brenda
ANSWER
Hi Brenda,
When discussing pool fence ideas, it's really such a personal preference. Some people only feel comfortable with fencing directly around the pool for safety issues. When a client feels that way, I totally respect their feelings.
That being said, you don't want to close in your pool so that you feel confined by the perimeter fencing. For this reason, I like to
allow a nice amount of space between the fencing and the swimming pool. It rather creates a landscape within the area. It doesn't have to be huge.
In your situation considering the fact that you will be having a pool house, my pool fence idea would be to connect the fencing to the pool house at its rear corners. I would then create somewhat of a rectangle of fencing around the pool. I don't like when fencing follows the pool shape as it always looks awkward. The shape of the planting beds can create nice curves and coordinate with the pool shape.
It's nice to have some lawn in the enclosed pool area, although not necessary. If you decide to have lawn, the spatial concept would be pool-lawn-plants-fencing. Place lots of perennials up against the fencing to soften it and also provide color throughout the season. You could also have lawn in just some areas and not others.
Regardless of whether you decide to have lawn within the pool area or not, planting beds should be at least three feet deep.
Ornamental fencing is fine. The advantage is that it is a nice type and also it blends into the landscape rather than creating a total block as a solid wood fence would do. The only issue I would have is that if you see the two different types of fencing together, that might not be the way to go.
Instead, you could use the same three board fencing. There is meshing that would have to be installed so that the fencing meets the zoning codes.
Please visit my page on
Swimming Pool Fencing
.
Pool Waterfall Feature
by Cheryl
(Florida)
I have a pool and spa in Florida and do not use the spa Since the spa faces the street and there is some noise. I would like to change the spa by re-working the jets and the spa itself to make a waterfall feature and add more privacy.

Can I achieve this with rock or artificial rock and perhaps a small Robelini palm and some flax lily at the top or to the side to create a tropical feel? Can I use the existing pump a 1 1/2 hp and the jets in the existing spa and re-plumb them to supply the water for waterfall? Any ideas?

Cheryl

ANSWER
Hi Cheryl,

I am not a pool contractor so I would not be able to advise you. However, I will ask around and if I get an answer, I'll post back.

Any pool contractors out there? Feel free to answer or comment.

Susan
Join in and write your own page! It's easy to do. How? Simply click here to return to A Question.
Pool, Deck and Pergola
by Ken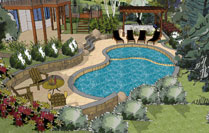 Regarding the pool, deck and pergola design...

Love the backyard shown on the site. What are the full dimensions? I have a backyard that is 40 ft by 50 ft. Is this large enough for something similar? I may use some of that space to expand the house. What is the minimum space needed to do something like pool, deck, outdoor kitchen, shown. Maybe a spa instead of a pool consider the limited space.
Most important, about how much does a project like this cost?

Answer
Hi Ken,
I believe you are referring to this page:
Backyard Pool Design

Although the property is a bit larger, the area with the landscape elements you see is about 120 feet by 55 feet.

I believe it would be difficult to fit a pool into a yard 40 feet by 50 feet. Even if you went with a smaller size pool of 30 feet long (the one in my design is about 38 feet in length), that only leaves you with 10 feet on each end for paving and access. It's very tight, especially if you are considering expanding your house.

As you mentioned, things would be more spacious if you did a spa rather than a swimming pool. Then, you could comfortably have a deck, outdoor kitchen and the spa, along with plants and walkways for access.

As far as costs go, here are some numbers, although it would depend on the exact design, dimensions, materials, etc.:

Hot Tub $6000
15 x 20 Cedar Deck $7200
Outdoor Kitchen - this is very variable. You can go as simple as a built in grill to a kitchen complete with grill, refrigerator, counters, sink, etc. $3000 - $10,000+

Then there are optional plantings, grading, lawn, sprinkler system, lighting, etc.

I know this pricing was very general, but I hope it was helpful. Let me know if you need further help.

Susan



Join in and write your own page! It's easy to do. How? Simply click here to return to A Question.
above ground pools - using landscape trees
by Dee
(Maryland)
How to landscape around an above ground swimming pool? The pool is 30' round, to one side there is a pool deck that is the same height as the pool to allow adults to monitor children this is 12' x 12'.

ANSWER

Hi Dee,
Ideally you want the pool to look as if it were part of the landscape, not above ground. To do this, I would plant along the side of the pool that does not have the decking (too start). Use plants that hide the side. This would mean that the mature height of the plants should be about the same height of the pool.

Where the decking is, you might consider adding a Landscape Tree for shade. This will provide a coziness and also some relief from the hot sun. If you want to be ambitious and budget allows, you could even add some evergreen trees away from the decking and add a pretty ornamental tree in front of them.

You could also add a Garden Trellis Design to all or part of the decking.
Join in and write your own page! It's easy to do. How? Simply click here to return to A Question.
Pool Deck Pavers
I have a question about pool deck pavers. I own a courtyard home in South Florida.

The original pool deck was a poured concrete slab approximately 6" deep. Two years ago we had the pool refinished and had 1" brick pavers installed over the concrete slab. The pavers were set in sand on top of the concrete slab and sand was spread across the pavers to interlock them together.

Recently the pavers that are located under the lanai area (covered) are experiencing severe efflorescence. I'm told that this is because the sand under these pavers stays damp because they aren't exposed to the sun and this dampness causes the efflorescence.

I am now considering having the pavers removed and installing travertine pavers in their place. My question is two-fold; first, does travertine also produce efflorescence? second, can I have the travertine pavers set in thinset instead of sand. Thank you in advance for you help.

Dan Hazard

ANSWER

From everything I have read and learned about travertine pavers, there is no efflorescence.

Travertine can be installed on existing concrete as long as it is in good condition...no settling or cracks. The stones can me mortared on to your concrete base, but what type of mortar to use is something that you should check out with a mason. It can definitely be done though.

Travertine pavers are typically set in sand, but I believe you can also set them in mortar. You can also use polymeric sand, which hardens.

Good luck and if you have any further questions, let me know.

Susan
Join in and write your own page! It's easy to do. How? Simply click here to return to A Question.
replacing swimming pool coping on a vinyl liner pool
by pat
(syracuse ny)

Can I put pavers over the existing concrete apron around my vinyl liner pool. If I do that it will cover the coping for my liner.

ANSWER
Hi Pat,
No, you can't just put pavers over existing coping, whether you have a liner swimming pool or a gunite one.

You will have to remove the existing coping. This has to be done carefully as the liner can shift. The best thing to do would be to work with a contractor along with a pool company. You may even need a new liner. (not necessarily, but it's a possibility.)

In addition, the height of the pavers must work with the existing swimming pool decking, ie., be at the same level.

Swimming Pool Coping

Susan


Join in and write your own page! It's easy to do. How? Simply click here to return to A Question.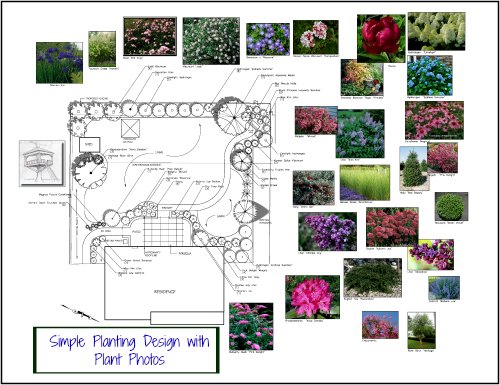 If you enjoyed this page, please share it!