small condo backyard courtyard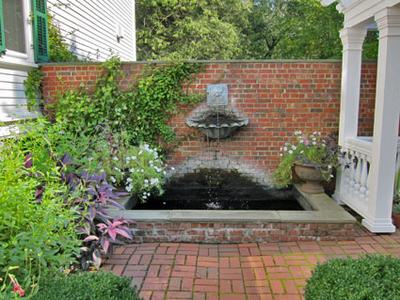 Ideas for a backyard courtyard
I'm looking for ideas for a small, 12 X 16, western facing,condo yard. The area is one street from the Gulf of Mexico and partially shaded by numerous trees bordering the southern side, condo on the eastern side, neighbors on the northern side.


Grass is sparse, soil is moist and light is filtered by large banana producing trees on the western side. I had thought to pave or brick the majority of the garden with small planting areas along three sides and a blue ceramic birdbath in a center planting area.
What would you suggest for paving? For plants? I was thinking hostas, hydrangeas but wanted something to offset the green and blue color scheme. Orange? Red? Purple? I'm wanting to create a calm retreat for relaxing and entertaining.
There is a small covered porch not included in the footage I provided. The porch holds an old glider, 2 chairs and 2 small tables as well as a barbecue grill. I have a very small, round redwood table with benches I can use if needed.
ANSWER
The area sounds charming! I actually love small spaces. You don't have to add a lot to make it look good, and if you do get carried away, it just looks chock full interesting!
I am not sure of the hardiness of specific plants in your area without doing some research and knowing your exact planting zone. However, I'd be happy to give you some general conceptual landscape design advice.
I love the idea of paving the entire area. You could actually create a
courtyard by really enclosing it in with plants, fencing, walls or an y combination of these things.
As far as paving materials go, that would somewhat be dictated by what is on your house. Is it brick, painted siding (what color?) stone, shingles, etc.?
Brick
is charming and would create a good look for a courtyard, but the color and feel does not go with everything, especially a brick house....too much the same!
I love
bluestone
too. Would this look well with your home? Travertine pavers are another option. They are more formal looking so again, it depends on the house material, color and architecture.
A birdbath would look nice in the center with plantings. I like that idea. Another option would be to place it in one of the back corners with evergreen shrubs behind it to make it really stand out. Add a small bench nearby. These things will draw you towards the back of the patio; it's nice to use the entire area, isn't it?
If you are look for "peaceful" blues are always nice. Go for a scheme of blue, white, and purple...add in just a touch of pale yellow for contrast!
You might also want to add some interesting features, such as a seat wall or pergola, although they would add on to the cost. You could even add a wall fountain in the back...now we are really getting carried away (but in a good way!)
Take a look at
my book on patio designs
where I have lots of examples.
I hope this was helpful.
Susan