Patio design and construction-installation-concrete
by Kay
(Ohio USA)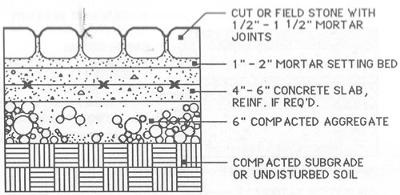 Concrete Patio Installation - Timesaver Standards
Hi Susan,


Thank you for providing the opportunity to ask a question on your site.
We are considering adding patio to our yard and already have some stone slabs. These were probably from an old sidewalk and have been overgrown with grass for 30 years. We also have some old bricks with the manufacture/company name on the top.
We are trying to incorporate the old with the new. Is it possible to have cement poured and the stones and bricks layed in the cement?
Kay
ANSWER
Hi Kay,
I am not sure what kind of stone you have or how large the pieces are. But I don't see why you can't re-lay them and create a nice patio. You would have to do an install just as if you were putting in a new patio. I think you could get a pretty nice look with some thought and creativity. As with any hardscape installation, follow the acceptable methods for wet laid (set in concrete) applications.
It's shown in the drawing at the top of the page.
Another idea is to dry lay the stone and brick.
Paver Installation Drawing
I have an old home and just re-laid my patio for drainage purposes. I could have laid it in concrete, but it was originally dry laid and I liked it. Plus, with dry laying, you don't have to worry about the joints cracking. It's also easier and less expensive. Joints would be filled with sand, or a polymeric sand which hardens. I chose the regular sand. If anything were to occur, you can just pick up the material and re-lay it easily.
Good luck, and if you have further questions, just post them here.