matching up patio design & color to brick home
by Andy Seals
(Spring, TX)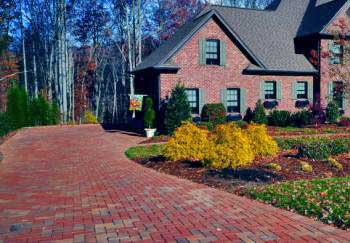 mixed brick colors
Planning to build dark stained pergola over back patio against a dark red brick home (mixed with darker browns to blacks similar to your basket weave pic #2 on pg: Brick Patterns.


I'm leaning toward 24" concrete paver design with multiple block sizes like pic 3 on
Paver Patio Design
or the city cobble with basic red.
I don't think I want to match the exact color brick, but don't know whether to go stone colors like dark gray & brown mixes similar to you pics 3 or 4 on pg:
Paver Patio Design
How about some color matching advice? this will be a west facing patio with full sun, so I don't want it to burn my bare feet in Texas either! I'm not a big fan of extreme contrast against the brick, but I also think matching to closely will unattractive.
Andy
ANSWER
If you have a brick home where it looks like the picture you referred to, that is a brick with various other colors in it rather than a solid brick red color.
In these situations, I like to go with more of a solid color look for a paving material. I don't really like a mix of colors for one hardscape (house)and another mix of different colors for the patio design.
What might look nice is to go with grays, but add some darker grays here and there...not too dark...just enough to add
some interest. Many paver companies have "gray blends". You could use a solid gray and add in for example 20% of the "gray blend".
One thing I always recommend is bringing samples home, laying them out, and actually see how it all looks together. Don't think because you are going to have a dark stained pergola that you have to go with tan color pavers.
I do like using some or all of the large sized pavers since this is a nice contrast to the brick. The larger sized pavers won't fight with the brick shapes...to similar but not quite making it!
If you want to use a red paver, make VERY sure that the particular red blends very well with the brick on your home. With a gray color, you won't have this issue. As you indicated, a red color is probably not the best choice.
One of the reasons I say gray for the pavers is due to the blacks in the brick. I am also assuming that the grout is gray so this will be picked up well.Gray is also lighter in color, so less heat absorption. I am thinking a medium to light gray as the main color.
Again, bring some home. Even bring home some tans if you like (I don't think you will like the tans). Bring home a large enough sampling so that you can really see how it all goes together...15 or so.