Bluestone Steps - How To Choose a Stone For Risers

(CT)
I am considering a bluestone porch and walkway.


We are looking at cultured stones for the risers and there are many choices. I have a clapboard house in New England and it is yellow. What would you recommend as to the type and color. We have looked at Owens Corning products and Bolder Creek. Thank you.
ANSWER
I had a client in upstate New York recently with the same question. Instead of using cultures stone, why don't you consider face stone? This is natural stone like bluestone. It is flat and applied as cultured stone would be.
My client also was using bluestone and had a yellow house. I can't know all stones that are available in all areas (whether cultures stone or natural stone), but I would recommend a gray stone that has some tan or brown running through it.
Take a look here:
Bluestone Steps
If the bluestone you chose wall "all blue", meaning each stone was the same blue color, then your choices for the risers is easy. Select one as described above. It will blend well with the bluestone and add some interest while also going well with the yellow of your house.
If the bluestone you chose is "full range", a variety of blue and tan colors, then you will have to have a good eye. Either choose a gray color so that other colors do not fight with the colors in the bluestone...or choose a stone that has a blend of colors (blues and grays). For this however, I would definitely suggest holding the bluestone and the riser stone together to make sure they go well together.
Susan
Join in and write your own page! It's easy to do. How? Simply click here to return to A Question.
Design Help: Paver Porch with 2 steps wanted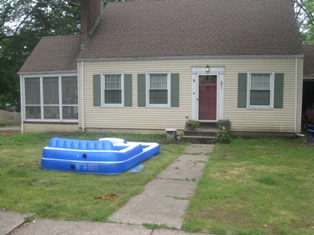 porch and walkway
I am planning a paver porch with 2 steps.

At first I envisioned a 5 foot porch running the entire width of the house. I would also replace the center panel of the screened in porch with a door so you could get in from the porch. But now I think it would look silly to just have a big rectangular porch. I also plan on replacing the walkway with pavers and adding a path to the driveway and a path that takes you around the house to the backyard. Can you please help me with the design of this thing? I'm open to any design ideas. PLEASE HELP!!!

ANSWER

I agree with you that a porch along the entire house would not look right. I see a few options though.

1. Create a porch that extends to your first window on either side of the door. I think it would be ok if it was under the inside shutters a bit. Guessing, I would say that then it would be about 7 feet wide or so. You can now make the depth of it about 6 feet deep. This would allow you to make it interesting. You could place a small bench, some planters, a pretty old chair, etc. (Any or a mixture of these).

2. In addition and as an option, you could build planter into the sides. See my porch design on a project I did showing this idea. (First picture.)
Patio Designs
Your planters could be narrower than these.

3. The porch could be a little narrower than suggested above, but you could create a courtyard/sitting area alongside of it. This could be charming but dramatic with small columns, planters, etc.

4. Leave the size as is, but add the planters to make it more important.

The paving materials you choose along with the planting design will add to the beauty of the project. By the way, if you add the door to the porch, you can always have a path leading to it.

If you'd like to discuss this further or my providing you with a design, please contact me.








Join in and write your own page! It's easy to do. How? Simply click here to return to A Question.
Blue Stone for Steps or Travertine
by jane
(West Babylon, NY)
Here's a question about using blue stone for steps or travertine, styles, and costs.

I live on the south shore of Long Island in New York. I am trying to determine the best and most economical material to use for a front step entry to my home, there are three steps and pillar on each side currently cement. I really like the look of blue stone pieces but I am concerned about the durability in the new york climate we get really cold winters sometimes and really hot summers sometimes. Would it be better to use a single slab of blue stone versus pieces? Would the cost be less if I choose Travertine or all brick no stone for the entire front entry way to my home? Any guidance you can provide will be appreciated.

ANSWER

Hi Jane,
I think blue stone for steps would be fine in your climate. I prefer one solid piece of bluestone for treads, but this is more costly, particullarly for a porch which is typically wide. Separate pieces will still look nice. Here are some pictures of projects of mine showing both the solid treads and also blue stone steps in pieces. The example of the one done in pieces is the second photo down.All the other blue stone step photos show one solid piece.

Bluestone Steps

If you did the steps in travertine, you would most likely have to do separate pieces. I am not sure of the cost differences between the various hardscape types you mentioned, but I don't think they would be too far off from each other.

One more thing. If you decide to do the bluestone (or travertine) in pieces, make sure that the joints alternate evenly between steps. It looks much more professional. You also have your choice of straight edge bluestone or thermal edge. The third picture down on the above mentioned page is the only thermal blue stone on the page. I prefer the straight edge look, but that's personal preference.

If you have further questions, let me know.

Join in and write your own page! It's easy to do. How? Simply click here to return to A Question.
Outdoor Steps Over a River Bank
by Bill Johnson
(Fredericton NB, Canada)
Raised Wooden Steps
Here's a question about creating steps over a river bank. I've suggested wooden steps.

Looking for suggestions on what I could do - the bank is 18ft from the top to the bottom then a fairly gentle slope to the river.the 18 ft is a fairly steep decline, but not impossible to build steps straight down. Part of the steps will be under water with spring floods, no ice but still a reasonable current. Bank is all vegetation with nothing but silt under everything, so the bank could suffer erosion if not careful.

ANSWER

You might consider a raised wooden steps. They would have to be built on footings that were deep enough to resist any freezing weather in your area. In this way, the steps would be above the ground for when it floods.

I'm thinking of piers over the ocean, raised wooden walkways over wetland areas, etc. But your would be steps. The steps can be more like deep platforms. I've included a picture as an example. However, I would raise your steps up higher and add railings. As an alternative, you can also design them as regular steps and not wide areas.

Keep the risers between six and eight inches. When determining the depth of each step, 2 risers (height) plus 1 tread (depth) should equal between 24 to 27 inches. Ignore this for wide steps as in the landscape picture of steps above.

If you use narrower steps, create groups and add landings between the groups along the staircase.

In addition, consider planting an aggressive groundcover that will hold the soil and help with the erosion.

Join in and write your own page! It's easy to do. How? Simply click here to return to A Question.
patio steps
by sherry
(stevensville, mich)
Here's a question about patio steps.

I have a small concrete patio (13x16 feet) off my dining room. The steps (2) down to the patio are made of wood. I would like the first step to be even with the base of my sliding door and maybe a somewhat different first step. The patio is quite small, and I can't seem to come up with a design that my 81 year old Mom and my 12 year old dog can comfortably step down. My designs end up taking up too much room from my patio. Help

ANSWER
Hi Sherry,
With new patio steps, you'll probably have to sacrifice at least 2 feet in depth. I'll assume that the patio is 13 feet deep and 16 feet wide.

What you can do is create a "porch" platform or landing. You can make this 3 feet deep, although 4 feet would be better. I am suggesting 3 feet to save on patio space. The width should be at least 3 to 4 feet wide.

From the platform would be two steps down to the patio. This would create a comfortable landing space out your door, level with the dining room floor.

This would be the most simple solution. If you need your patio to be larger, you can add on to the perimeter with bricks, pavers, bluestone, etc.

The other more expensive option would be to raise the height of the patio...an expensive option.
Join in and write your own page! It's easy to do. How? Simply click here to return to A Question.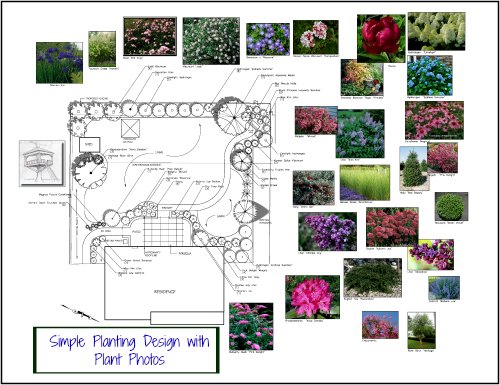 If you enjoyed this page, please share it!