Landscape Design For Noise Reduction | Evergreen Trees
by Mary
(Berwick, Maine)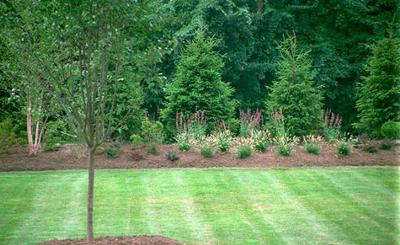 Evergreen Trees For Noise Reduction
I live on a busy route. I love my house but the noise of the traffic(tires hitting road) is ongoing.


I am wondering if a hill or banking between the road and house would cut down on this noise and if so who would do this type of work? A landscaper or a builder? Could we just have someone bring fill in and the banking would stay?
If you have answers or can direct me to a website with answers please help.
Thank you,
Mary
ANSWER
Use Evergreen Trees!
Hi Mary,
Sorry, but no, this will not work. By just raising your grade with soil will not be enough to block out the noise. However, here is what I would suggest.
Plant a mass of
evergreen trees
. These types of trees are known for reducing noise.
There are many you could use. Norway Spruce are excellent and beautiful. Although they get very tall and wide over time, they will adapt to how far apart you place them.
Arborvitae is another choice. Some varieties are quite narrow (see link above).
You could get quite creative and plant some perennials or a flowering tree in front of them towards the house side so that you can enjoy a nice garden and color from your house...a nice view.
The image I posted above shows this type of planting. These clients were located on a busy road. They wanted both privacy and to reduce the noise from traffic. This was accomplished with Norway Spruce trees and a nice landscape was created too.
If you want to berm up the area where you plant the trees, this would be fine. However, know that this will do nothing regarding tire noise. Also when you do this, you have to make sure that you do not create any drainage problems. Once the soil is elevated, if there is any water draining from your house to the street, it will be blocked.
I would recommend doing this as a solution for what you are looking for. Obviously it is more costly than just adding soil, so you will have to evaluate if it's worth it!
You might be interested in my ebook
Trees For Landscaping
where I discuss many different evergreen trees and show photos of them. The book also has topics on ornamental and shade trees too.