Driveway and Walkway
by Kenneth
(Bellmore, NY, USA)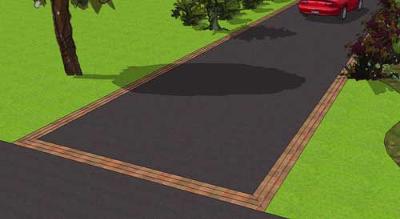 Paver Driveway Edging in Sketchup
We are updating our driveway and walkway which are next to each other. We are looking to have a concrete driveway with paver border and paver walkway. Is this typically done and do you have pictures similar to this?


Thank you.
ANSWER
Yes, you can easily create a paver border along a concrete driveway and have it match (or blend)with a nearby walkway. The pavers can be mortared in place or they can be dry laid. There are a lot of different ways to create interesting designs.
You might have one row of pavers as your driveway edging, but more of a statement will be made with at least a double row. You can even have three rows...it depends on how wide your driveway is.
The adjacent walkway can be done out of the same pavers and pattern. Another option would be to change the direction of the pavers on the walkway. For example, if you had three rows of pavers along the drive, the walkway pavers could go in the same direction or even be laid diagonally. If you have a soldier course along the walkway (which is a border), this can mimic the driveway border.
I've added an image to show you what it could be like. Although asphalt is shown, this can easily be substituted for concrete. Please visit the following page to get some additional ideas.
Paver Driveway
As you will see in the 3D designs, you can also add a circle pattern in the concrete. Another option is a driveway apron made out of the same pavers that are bordering your driveway. You could also make the apron field a different color or pattern than the paver edging...lots of options!