3D Landscape Design Patio - Square Footage
by Jackie
(Fort Wayne, IN, USA)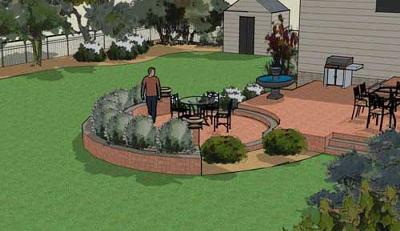 3D Landscape Design Patio
Could you please tell me the square footage for the 3D brick patio design with the title "A lovely two level patio" ? I am very interested in this design for my new home. I have attached the picture from your website.


ANSWER
Hi Jackie,
There are a lot of shapes, steps, and curves to this patio, which can be found on this page.
3D Landscape Design
However, here is some approximate info for you.
There are three parts to this design.
1. The landing outside the house is 6' x 9' plus the steps.
2. The upper level patio is about 375sf. It has a curve to it where it meets the lower circular patio.
3. The lower circular patio is about 175sf.
There are additional steps on all levels and also a seat wall.
An image of the AutoCad drawing and also a better 3D view is actually in my ebook
Patio Plans For Inspiration