Walnut Travertine Tile
Will a travertine walkway in the walnut travertine tile or beige color look good in the front of my house?


The front of my house has stucco and deep red brick, red tile roof and a concrete driveway. I like the French pattern look. A travertine patio in my backyard is not a problem since I don't have any brick in the back, but I'd like to use the same stone in the front and back.
Thanks.
ANSWER
It would be nice if you could send a picture so that I could see the exact color of your stucco. If you can do that, please just note the question briefly at
Ask a Question
and add your picture.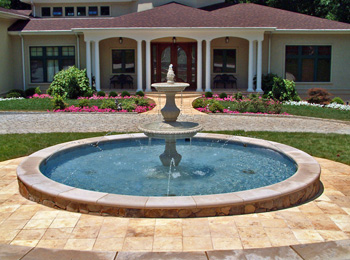 Stucco houses can be various shades of beige, from very light to very dark with many different tints.
I think travertine can look very nice with a stucco house. In fact, I designed a huge project for a client where the house was stucco. They did not use walnut travertine tile but used a beige color.
The front porch was travertine. The design involved a circular driveway courtyard with a fountain. I added the same travertine around the fountain as you can see in this photo.
I love the French pattern...it's actually my favorite.
As far as whether you should use a walnut travertine tile or pavers, or abeige color, it depends on the color of your stucco. However, generally, the beige's are more neutral. That being said, if your house color is very light, you will have to make sure the beige travertine pavers blend well with that color and perhaps walnut is preferable.
How do you know for sure? The best way is to get some samples. There are many travertine companies out there that will send you samples for free. These are online companies. If you need a recommendation, just
Contact Me
.
If you have a local supplier, go over there and bring home a few of each color. It's ideal to have a few to get the bigger picture.
I'm sorry to not be more definite about using a specific color of travertine paving, but when it comes to making a good decision, it takes a bit of work. Why invest all that money and end up with a color that is not perfect?!