Planting ideas for subdivision entry islands
by Dan
(Kansas City, MO)
subdivision entry island
Hi-

I have been asked to revamp 3 subdivision entry islands with new perennials. You can see from the attached photos that the islands are full of yews, grasses and roses.

They have asked for a "Napa Valley" theme that includes lots of color however they have stated they do not want any berberis. This neighbor is in the Kansas City, MO area - zone 5b. I am at a loss for suggestions. Any help is appreciated.

Thank you- Dan

ANSWER

Hi Dan,
This is somewhat challenging as the areas are not that wide or long, in addition to be broken up by trees.

I can't quite make out how many sections there are, but one thing you might consider doing is planting a section with the same plant. The next section could have a different plant, and then the third could repeat the first. If you start placing all different perennials in each section, you are going to get a mess, unified look...it's just not large enough. I am not against mixing different plant varieties together, but I usually like to have at least 3 of one variety before I change to the next..perhaps with a single one mixed in here and there.

You might consider shrub roses as one choice. They are low maintenance and flower on and off all season. some other low maintenance but colorful perennials are Catmint, Yarrow, and Sedum 'Autumn Joy'. see my page on Perennial Flowers

Catmint is very hardy and flowers on and off (mostly on) all season. The flowers are not big and showy but there are many. Yarrow comes in various colors. I happen to like the pink ones, and if you used pink Yarrow, Carefee Delight Roses (medium to dark pink) and Catmint (blue-purple) perhaps in the center section you would have a nice color range. Purple would be centered with pinks on the end sections.

If you do not want perennials because winter interest is desired, you will have to use evergreen shrubs. I dislike shrubs with yellow foliage, so because of that I would not recommend them. You are then left with just greenery, which will not give any summer color at all. It's always some type of trade off between color and winter interest. In many cases there is room for both but you do not have that luxury. That being said, you could settle on evergreen shrubs for the center and perennials on the ends.

Again you are limited with shrub selections since that area appears to be quite sunny, for now anyway, and possibly windy also. One hardy shrub that would work would be Junipers.

Join in and write your own page! It's easy to do. How? Simply click here to return to A Question.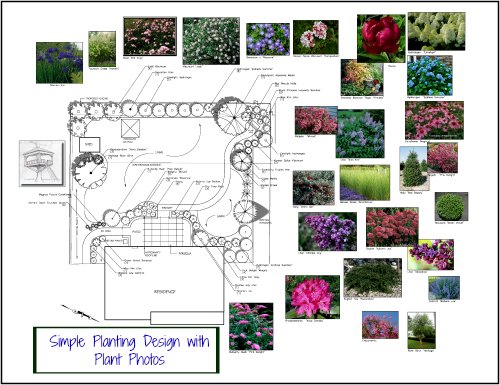 If you enjoyed this page, please share it!