My New Backyard Landscape - Google Sketchup
by Gabriel Palacios
(Escondido, CA. USA)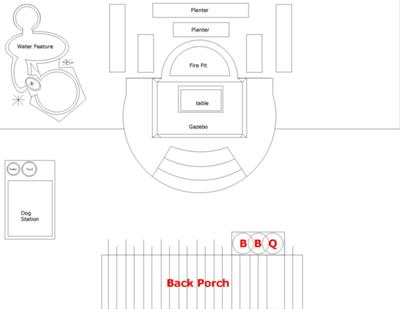 my backyard landscape prototype it has already evolved.
Hello I recently purchased a home is Southern California. I have used your advice and tried that free landscape design software that Google offers and I think I have come up with an ok design. My only issue is right now there is an existing Terrace that was there when I purchased the home. My design calls for an extension of sorts to it and I don't know how I can tie that in and still have the drainage not be affected. I thank you in advance for any advice that you have and I have used your website often for ideas in my planning of yards in progress.


ANSWER
Hi Gabriel,
I'm glad you are enjoying my site and tried out
Google Sketchup
It's difficult to give you any advice without seeing some photos. Can you please
Contact Me
and I will let you know where to send them so that I can take a look.
Also, have you used the 3D on Sketchup...that's the best part! It might even help you see the how the grading should go if you enter the correct elevations or close. Actually, you might even try a side view (side elevation of the area) which will be easier for you regarding seeing any slopes. But I'll be happy to help by viewing your pictures.
Follow Up
I never received any photos from you. If you want to address some grading issues you might visit this page which provides lots of drainage information in easy to understand terms.
Landscape Grading
You can grade the add on away at the proper slope. You can also add a
trench drain
where the new and old patio meet to take the water away. Read more about it on the Trench Drains page.
Susan