Landscscaping a Driveway and Walkway
by Jared
(Tampa, FL)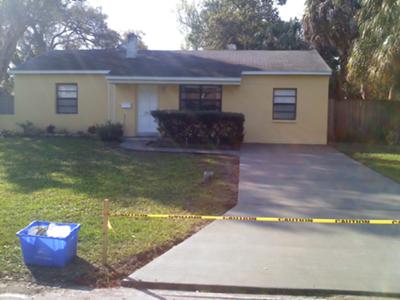 Landscaping a Driveway and Walkway
I would like to get your thoughts on possibly adding plants along the driveway and walkway to create a more inviting appearance. What are your thoughts on landscaping a driveway and walkway...types of plants or flowers that are perennial? I may also put a palm somewhere.
ANSWER
Hi Jared,
You might consider adding a bed at either side of your driveway at the entrance. Here, you can place groups of perennial flowers. Place shorter ones closer to the driveway and taller ones towards the outer part of the bed.
You can also add a small tree in the bed on the right (looking at your house) and a medium size shrub on the left. Don't line these two plants up with each other but position one further up towards your house, most likely the shrub.
I often like trees to mark a driveway entry. However, due to the scale of your house, I feel a tree on the left would block your view of the house.
In the bed near your house with the existing evergreen shrubs (assuming you are removing them, right?!), You can also use perennials. You might add a group of tall ones just to change the heights for interest. Use three to five of a variety for the best impact when flowering.
You can also use some
easy to grow roses
.
Here are some links to pages on my site that you will find helpful:
Perennial Flowers
Perennial Garden Design
Easy To Grow Roses
Front Yard Landscaping Ideas
Join in and write your own page! It's easy to do. How? Simply click here to return to A Question.
Driveway Trees - Which To Choose
by Tom
(Paducah ky)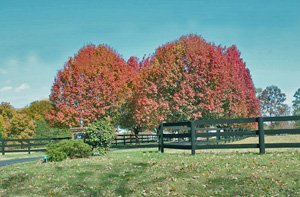 Fall Color With Driveway Trees
A question (and answer!) about driveway trees and which to choose.

I want to plant trees down sides of 1800' driveway. Need a tree that is strong, clean, large and very reliable. There will be irrigation for the grass too. I have researched and it seems there are issues for every tree, particularly considering the long horned beetle and emerald ash borer too. Zelkova 'Green Vase' stand out as does Northwood Red Maple but for the roots. Zone 6-7 open fields western Kentucky Any suggestions would be welcome?

ANSWER
Hi Tom,

I know those zones well. I live in NJ on the border of 6A and 6B. I also lived in Virginia in Zone 7A and did work for clients in Zone 7B.

Zelkova and Red Maples are excellent choices. Good research. I am not that familiar with the Northern Red Maple, but the Red Maple 'October Glory' is one of the best. See my page on Landscape Trees

Both trees have beautiful shapes...the Zelkova being more vase shaped. I did a project a few years back for clients who had a 500' long driveway. Those were the two trees I was choosing between. The only reason I chose the Red Maple was due to its magnificent fall color.

As you mentioned, no tree is perfect. You will want to place a bed around each tree, starting out with about 4 - 5' diameter. As the trees grow, you will enlarge the beds. I wouldn't worry about the roots. Think of the old estates designed by Andrew Jackson Downing with the beautiful old majestic shade trees in the lawn.

I've seen lots of Red Maples around...at homes, used commercially, etc. and have not noticed a terrible root issue. Zelkovas are less common.

Both trees are great (sorry if I am repeating myself)! There is nothing like fall color, but at the same time, Zelkovas resemble the old Elms and are very elegant.


Driveway Designs

This is a video (third one down on the page)you might like to see. The trees planted were quite large, although at the start they don't look anything like they will in a few years. These are Red Maples, best seen in the very beginning of the video.



Join in and write your own page! It's easy to do. How? Simply click here to return to A Question.
Trees along driveway
by Tom
(Parkton, MD)
I am considering planting shade trees along my long driveway and wanted to know if I should alternate them from one side to the other or plant them in pairs. I am using red sunset and legacy sugar maples. I want to create a canopy for part of the drive and then have the balance of the drive open as you approach the house.
Thanks

ANSWER

Hi Tom,
I would prefer to use only one type of tree for the allee, not two types. Typically this is the way it is done and the way it used to be done on estates many years ago. It makes for a more flowing design. Also, the fall color will really stand out with more of one type. I often use Red Maples, either 'October Glory' or 'Red Sunset'.
Join in and write your own page! It's easy to do. How? Simply click here to return to A Question.
Driveway Plantings, Beds and Moss
by Ben
(Dalzell, SC, USA)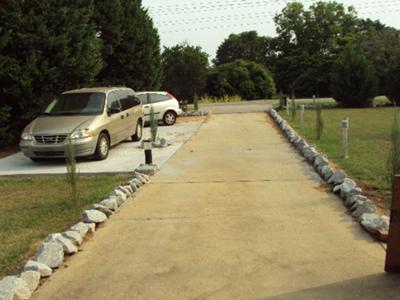 Driveway Plantings and Beds
I have young driveway plantings of evergreen trees (sky rockets) planted along my driveway, the driveway itself is bordered by granite rip rap rack with the trees planted along the outside border of the rock.

Grass cutting is a real hassle between the trees and the border rocks. I am considering planting Irish Moss all around the trees and along the rock border and to control the grass growth with sulfur diluted in water.
This I think will retard grass growth and be good for the Moss, but I am not sure if it will be good for the trees, it may kill them.
I could sure use some advise.

ANSWER

Hi Ben,
Sorry for the delay. Why go through all that trouble? If I were you, I would dig out all the grass and create a planting bed a couple of feet deep. Then cover it with hardwood shredded bark mulch about 3 inches thick. This will give you a nice clean look and will be low maintenance.

Moss likes shade anyway and that area looks very sunny. If you want, in the bed you can add some perennial groundcovers such as Thyme or low Sedums. They both like the sun. Many of the evergreen groundcovers such as Pachysandra and Vinca like some shade. Ivy might be too aggressive.


Susan
Join in and write your own page! It's easy to do. How? Simply click here to return to A Question.
Narrow Driveway Landscape Problem
by Ian Lindsey
(Altamonte Springs, Florida)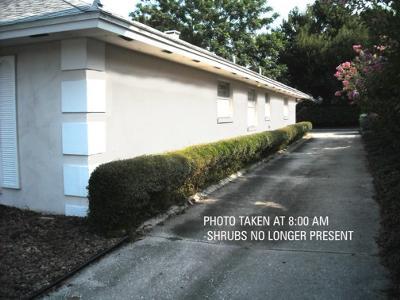 narrow driveway plantings
What to plant along a narrow driveway space?

We have a long driveway that runs along the side of our house to the back (our garage is in the back of our property). It is bordered
on one side by a seven foot median that separates our drive from the neighbors, which contains a row of crapemyrtles in a bed of asiatic jasmine groundcover. Our problem is the other side that runs along our house wall. It contains a small concrete-curbed bordered planting bed that is only two feet wide.

Originally it contained a hedge row that we had removed, because unless frequently pruned (which was a lot of labor because of the 65 foot length), it tended to grow against the house wall and into the driveway, which could easily scratch the paint on any passing car, if driving too close. We also plan on painting the house, and this will allow an easier/quicker job.

This bed faces directly east, and due to the crapemyrtles, it is in the shade until late in the morning, so it only gets direct sun from that time until the middle of the afternoon. We live in Central Florida, so we get plus 90 degree temps from June through almost mid October, and although we normally get daily thundershowers, there have been past springs and summers where we've experienced weeks of drought.

Also, between Jan-Mar, we can experience below freezing nights during certain cold spells. We are trying to figure out what best to place in this bed that would be attractive, but could withstand these conditions, as well as have little maintenance. Currently we only have the bed layered with bark mulch to prevent future weed growth. Someone suggested just paving over the bed and bringing the driveway right to the wall of the house, but we think the border aids in preventing guests or repair trucks from accidentally getting too close to the house wall.

Can you suggest a plant or plants that would meet these requirements? If this area and these conditions would not be suitable for a plant bed, could you recommend another solution? Attached is a photo of our predicament. Thank you.

ANSWER

Hi Ian,

Thanks for the photo and your detailed information!

If this were my property, or one of my clients, I would recommend a perennial garden. That side of your house needs some "pizazz"! In addition, there are many perennials that are narrow and will fit into a bed two feet wide.

I can't really recommend specific plants without doing some research, but I can give you an idea for a layout. Consider using 4 groups of plants. Start with something taller ( 3 to 5 plants of one variety) towards the street end due to the large wall area there. Then have another group (group A), continue with another plant (Group B), and then repeat Group A for continuity. Two plants that come to mind are Salvia which has purple flowers and Thyme.

Both of these plants are drought tolerant. Since the Thyme is low, you could add a narrow sculpture where you plant them to provide some height.

I would NOT bring the paving to the house. This will create a very hard look with no softness...you would not like it. I bought a house once that had this setup and it was very unattractive.

Join in and write your own page! It's easy to do. How? Simply click here to return to A Question.
Driveway trees
by Jamie
(Bentley, Alberta, Canada)
Hi, we have moved to the country and are building an acreage from scratch, I'm having trouble deciding what to do about trees. We need a wind break for our driveway so my husband insists that we plant spruce trees down the North side of the driveway and has left me to decide what to do with the south side. We didn't want to put spruce trees down the south side as well because in the winter we want the sun to be able to shine through on to the driveway to melt the snow on the road. We do have room to plant two rows of trees on the north side, the row closest to the driveway doesn't have to be the spruce. I want a beautiful driveway, I love the big trees that overhang the driveway. I'm really not sure what to do, any suggestions would be super helpful! It's a straight driveway the curves to the south at the end and heads towards the house.

ANSWER

Hi Jamie,

Can you send me a pictures? Just send me a note through my Contact Page and I will send you my direct email address where you can send photos.

Thanks,
Susan
Join in and write your own page! It's easy to do. How? Simply click here to return to A Question.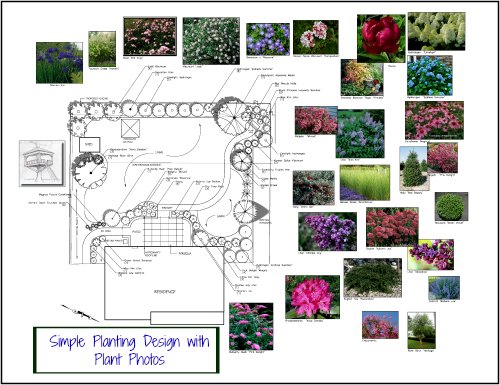 If you enjoyed this page, please share it!