landscape lighting in Texas
by Barbara
(Yantis, Texas USA)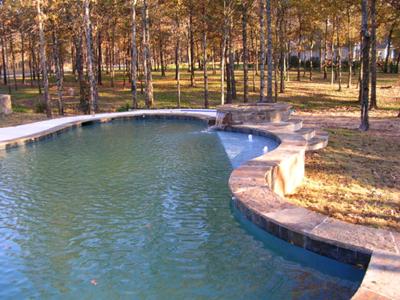 pool
The pic I have sent does not capture the whole area, but will give some idea of what pool shape is. I am looking for good quality walkway lights that will illuminate well around the pool. We live in Texas on a lake and have many "critter" type animals that we need to be able to spot at night. We have snakes, etc.. I also would like to know some drought proof trees that I could plant in side yard that is not irrigated. I would like trees to provide screening for pool area from the street view. Any ideas?
Thanks much!
ANSWER
Hi Barbara,
Love the shape of your pool!
For screening, you might try Deodar Cedar or Pine trees. The Pines will be less expensive, but get thinner on the bottom over time. To solve this problem, plant another layer of lower plants in front of them. You can do this later but leave the space for it. Both of these evergreen trees get quite wide, so if you have a very narrow space, let me know.
As far as lighting fixtures go, I like the fixtures that are sold by Outdoor Lighting Perspectives. They come with a 10 year warranty. OLP will help you with the design along with the amount of light each fixture gives off.
I would suggest calling Clay Johnston (he works all over the country) at 434-963-9985.
Susan
Consider a Professional
Online Landscape Design
Unique Services Throughout the US and Canada
"Susan, what a pleasure it was to work with you. You made me feel like I was your only client - responding late at night and always so quickly! Your design is amazing and we only hope we can do justice to it when we plant . You have such fantastic ideas and you are so open to suggestions and changes. Loved working with you - now if you could only come to Canada and plant it !!! "
Helen, Ontario-Canada