Hardscape materials for shady and moist areas
by Catherine
(Northern Virginia )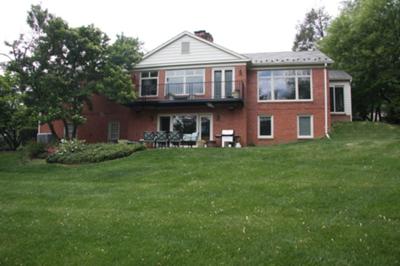 back of house - facing NORTH
Hello!


Our backyard receives about four hours of shade per day as the sun moves side to side over house rather than front to back. The back of our house faces NORTH.
We currently have an aging brick and mortar patio that molds BADLY and requires powerwashing at least three times a year.
I want it gone.
I want to hire a hardscape architect to design and expand a new backyard patio - including the areas leading from the side kitchen door and also from the driveway.
Questions:
What are the best mold-resistent products for my type of space?
Would a natural decking product combined with stone or paver accents be a better option rather than all stone/pavers? If I don't have a stone/paver patio, I definitely want stone/paver accents incorporated into the design.
What are the pros/cons of decking options versus stone or paver options for shadier areas?
Many thanks!
ANSWER
Hi Catherine,
To the best of my knowledge,there are not specific mold resistant products. However, there are materials that are better than others to use in this situation.
You ideally want something that is not porous. Brick is very porous. Wood is porous and synthetic materials (Trex, etc.) can have the same issues that you currently have. If there are any newer materials that claim to resist mold, I
am not aware of them. In addition, if there are some, they should have been tested under these conditions for quite a few years to substantiate any claims. If you are going through the time, money and effort of re-doing your patio and other areas, you want to be as sure as you can be.
I would recommned bluestone. If you look at a piece of bluestone you will see that it is quite smooth without any nooks and crannies for water to percolate into. It is these wet areas in shade that foster mold.
Actually, I inherited a home that has a combination old brick and bluestone patio. I face east. Even without facing north, the brick gets moldy, just like yours. The bluestone does not!
Although the level of your existing patio is just a small step down from your interior room, I also see that your kitchen doors are raised quite a bit. You should consider a bluestone landing with steps leading down to the lower patio. Creating a lower patio out of wood is not a good idea since it is so low to the ground.
I hope this has been helpful. Just so you are aware, I do provide many online designs. If you are interested as to how this works, please contactme via my
Contact Form
.