Garden Pergola | Paint Color Fro Garden Pergola Designs
by Steve Babela
(Niagara Region,Ontario)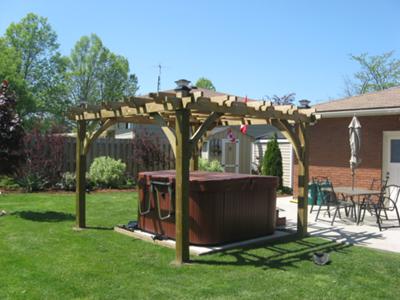 Garden Pergola Design and Hot Tub
Hi Susan......Probably over a year ago I asked for your help in regards to hot tub placement ideas....well proud to say that the job is now complete with a beautiful garden pergola design built over it(by moi)....Question I have is what color ideas would you recommend that we stain the pergola??? My wife and I were thinking a chocolate brown stain...but we're not too sure....could use another input and someone who isn't close to agree so easily....Thanks for your help


ANSWER
Hi Steve,
Congratulations. It looks great and glad I was able to be of help.
Your garden pergola looks very, very nice. As far as the stain color goes, I can see a brown color, but perhaps with some red in it so that it would tie in to the brick on your house. Get some stain samples and bring them home. Take a look at them both against the pergola and also up against the house. The pergola stain color does not have to be a dead ringer...just a nice blend. Tend more towards the brown rather than the red.
There is a lot that can be done with garden pergola designs. Since yours now is adjacent to your outdoor patio, you might consider creating a planting bed around it to hug it in, making the hot tub cozier, and integrating it with the patio.