Evergreen Shrubs Ebook Sample Pages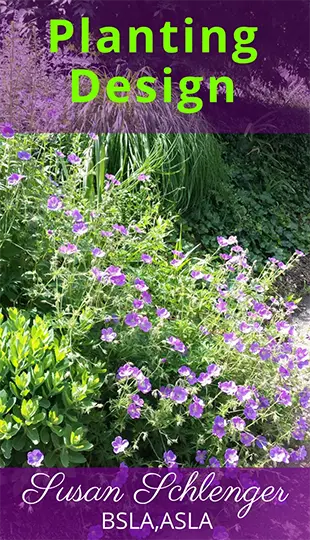 Get your free planting design guide!
Here is a sample of just one of many evergreen shrubs that I recommend, along with design tips that will help you with your landscape design.
Boxwood 'Green Velvet'
Buxus x
Boxwood provides "bones" to the garden due to their denseness. Note how the purple flowers of the nearby Salvia really stand out!
Boxwood is typically thought of as being very formal. And I must admit, that most of the time it is. However, as you can see from this photo, if they are set in a staggered layout rather than a straight line, they can fit into a more naturalistic planting. In addition, when looser plants are mixed in with the Boxwood, it's even more unstructured. Green Velvet Boxwood is a good choice for many places in the landscape, but particularly for front foundation plantings. Not only is it evergreen, but it also has strong structure. It is full looking and dense. Its size often works nicely as its maximum height is 30" to 36". The width is similar.
Another asset of this plant is that it works well as a background for other plants and flowers. Notice how the purple flowers stand out, and as these plants grow, the purple color will be directly in front of the greenery to make it even more exciting. Also notice how the texture and shape of the purple flowered Salvia contrasts to the Boxwood. What this does is make each plant show off its features. So do think about textures as you select plants and try to place different textured plants next to each other.
Size
3'h x 3'w
Zone
5A to 9A
Sun/Shade Requirements
Full sun to part shade 


Here is a sample of the section on designing with textures.
Textures 

I am an advocate of planting in masses and using shrubs with various textures. The reason for this is that plants with different textures complement each other. An example is the planting of Azaleas and Juniper together. The Azalea leaves contrast nicely with the needle-like foliage of the Juniper.
So what are some plant combinations that have worked well in some of my landscape designs when using a variety of evergreen shrubs?
I will give you some examples of some tall shrubs you can use in the background and some lower shrubs that look well with them as the next layer in front of them.
Rhododendron, Blue Holly, Japanese Andromeda, Cherry Laurel and Mountain Laurel all provide a nice background for the Plum Yew due to the change in textures as mentioned previously. These taller background shrubs all have larger leaves in contrast to the Plum Yew foliage.
If you use combinations like these and you have room for a third layer in front of the Plum Yew (or other appropriate shrub), what can you plant?
(Remember that your entire garden does not have to be evergreen. You will most likely want to mix in some deciduous shrubs and/or flowering perennials to create interest.)
Some plant suggestions for in front of the Plum Yew are Ornamental Grasses, Liriope, and groundcovers such as Pachysandra, Ivy, or Periwinkle. There are many additional perennials that can be used successfully. Some with complimentary textures might be Daylily, Nepeta and Lady's Mantle. All of these plants have very different leaves and forms than the Plum Yew.
The Liriope, Grasses and Daylily all have grass-like foliage, with both a different texture and form than the Plum Yew. Likewise, they are completely different than for example Blue Holly. Now you have a kaleidoscope of textures, heights and forms creating much interest and excitement…..very different from the ordinary landscape designs around. If you use any of the flowering shrubs such as the Rhododendron, you now have added beautiful and colorful flowers into the mix! (More!!)
If you enjoyed this page, please share it!

Landscape Design Advice

>
Designing with Evergreen Shrubs
> Evergreen Shrubs Ebook