Creating a play yard for our daughter
by Kristin
(Ohio)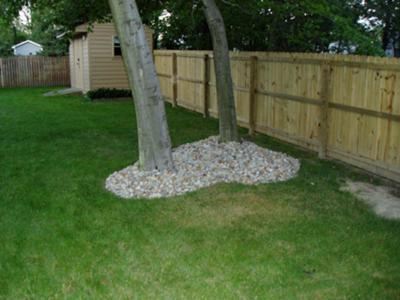 Backyard area where we are thinking of putting set
Hello!


My husband and I are trying to determine the best way to "block off" an area for our daughter's play set. We bought her a rainbow swing set for her birthday and are anxious to being setting it up. We have a fenced in backyard, and some minor landscaping around the back, and are torn over how to handle this.
We originally thought we would stake out the section where her set is going to sit. Do we need to dig the grass up? How far down do we dig? What is the best material (stone, mulch etc) to fill in the area with? Do we need to set the swing set in and lay the filler around it? (maybe set the legs of the set in about 2 inches or so?)
My husband would like to frame it out so that it looks nice. I don't have a problem calling a company to do this, but he would like to do it himself as part of the "gift" to her.
I really appreciate your help and look forward to hearing from you!~
Thanks!
Kristin
ANSWER
Hi Kristen,
As far to how to actually install the set, I don't know. However, as far as creating the area for it...I can help with that.
For the material, I like to use mulch. There are also some "rubberized" materials that are used. You'll have to do a search for that.
Edging it with a material such as railroad ties works well as it hold the material in the area and keeps things neat.
Make it large enough to give her some room beyond the set...walking or running around a little bit.