Concrete Pavers - Painting -Staining- or PaverArt
Here's a question regarding painting or staining concrete pavers...and the option of PaverArt.


I have built a patio extension out of 12" pewter pavers. I'm pleased, but now that I'm finished I'm wondering if I can enhance it by coloring with paint or stain perhaps to more resemble tiles. Any suggestions?
ANSWER
If you paint or stain concrete pavers, eventually it will wear off, as with any concrete material. That is why the color is added into the mixture as the pavers are being made. Likewise, it's much better when working with colored concrete to have it added into the concrete mixture rather than applied on top of it after it is installed.
What might be an interesting idea though, is to use PaverArt. These are pavers that are made into designs. In your case, it would have to be small or you could use their accent pavers, but it would still add some pop to the pavers.It's pretty interesting so you might want to take a look at their website.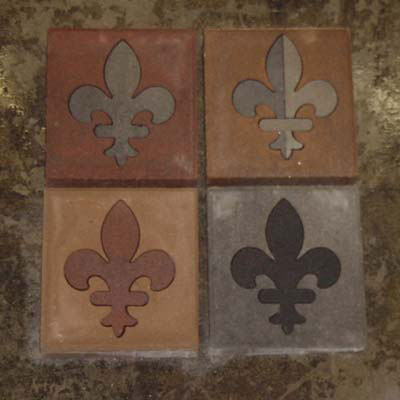 They offer 12" x 12" accent and border designs which would be perfect for a patio. This is a much more long lasting option than painting or staining concrete pavers.
There are lots and lots of styles and designs. For example, if you used something like the ones in the above picture, they could be placed at the corner. You could also create a row going around the perimeter of the patio. Creating a square design in the center where the decorative pavers form the outline of the square is another option.
You could make it more dramatic by using double rows instead of single ones. If you take a look at their online catalog, you'll find many styles and ideas.