Backyard Privacy - Creating Screening in Dry Soil
by Yolanda
(Surrey, BC)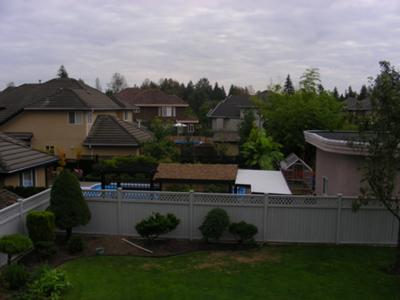 Backyard Privacy Along a Fence
I have been struggling for several years to decide what to plant for privacy in our backyard.


I'm open to having Evergreens or non-evergreens. We don't want trees that need a lot of maintenance.
We live in a zone 7-8, but the back yard near the fence has a lot of sand, which means it can get quite dry. The yard is actually sloped, but previous owners, we believe, filled the slope with sand and put top soil on the top. We had two apple trees, but are left with one (in the picture), which is dying. I would really appreciate your suggestions.
ANSWER
Hi Yolanda,
First of all, you could think about whether you want backyard privacy all year long or just in the spring summer and fall when you are more likely to be outside. If that's the case, you could use ornamental trees mixed with shrubs and or perennials for color. You can also mix in some evergreens.
If you need screening throughout the year, then evergreen trees are your best bet. I'll assume your area is sunny. Deodar Cedars are lovely and get quite tall. Leyland Cypress (not my favorites) have some advantages in that they don't get crazy wide and are fast growers. If you used these and did a nice planting in front of them, this could work. Adding an ornamental tree (Dogwood, Crapemyrtle, Star Magnolia) would be attractive along with some shrubs and perennials for color.
Take a look at my page
Landscaping Ideas
and scroll down to the section on Screening Techniques for more specific layout ideas.
Part of your backyard privacy design will depend on how deep you want the bed to be. Can you afford the space if you make it wide...or would you rather preserve the rest of your property for lawn, play area, other gardens, etc.?
If the bed must remain not too deep, you'll have to go with more narrow trees, such as Arborvitae. Although they serve a purpose in certain situations (such as the narrow space), I never loved these evergreen trees. However, I just returned from Italy where they have those intriguing Italian Cypress trees, reminiscent of our Arborvitae...so perhaps they do have a look!
If you need more help or have further questions, just let me know. Btw, you will have to figure on watering anything in the beginning. If any of these suggestions appeal to you, let me know and I'll make sure that they will take dry conditions. Amending the soil will help tremendously.