Help! Neighbor changed grade to flood my backyard!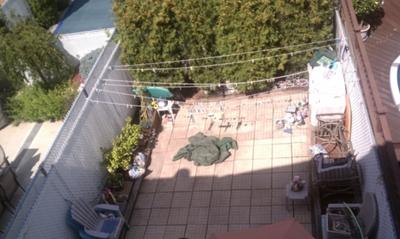 top view
Here's a question about flooding in a yard caused by a neighbor's new landscaping.


Hi Susan,
I am hoping you can give me some advice as I am desperate for a solution.
I just wanted to start off by saying that I live in a townhouse and am attached on both sides to the worst neighbors. I had to tell you this before hand because there is no reasoning with them or talking to them to come up with a fix.
Okay, now here is the issue. If you look at my yard from the top view, the neighbor to my right has a wood deck that is about 1 foot higher than my yard.
Between all sides of the fences, there is a retaining wall (except for a few select "missing and cracked areas" which I now believe were deliberate). His deck is higher than this retaining wall and actually goes over it towards my yard.
I always had problems with standing water in my yard, but it was tolerable until the neighbor on the left side changed her yard to all concrete. Again, she raised her entire yard up to and slightly above the retaining wall. You can also see her yard is pitched to the right (to spill onto my yard). There is a large section of the retaining wall missing between the back of the house to the middle of the fence on the left side. Ever since she did her yard this way, my yard is completely flooded. And when I say flooded, it floods within minutes, at least 6" deep in the back, and almost reaches the door. Well, it would have flooded the ground level of my house if I didn't have sandbags across the whole yard and spend 16 hours during the last storm pumping water and carrying buckets. Literally thousands of gallons of water. Meanwhile, both yards to the left and right of me are dry as could be. Because I am the lowest yard, I am getting all of their water. I could deal with my own storm water, but to get 3x the amount is not fair. I know it is illegal, what they have done, but again, I will get nowhere reporting them.
I have researched online for some methods to try and help the situation. I even received estimates from landscaping and masonry companies, and they are very costly.
1 - Have someone build a new retaining wall
2 - Concrete the entire yard and raise it so that I won't get the water runoff from everyone else
3 - Maybe put some berms or raise flowers beds on both sides of the fence?
By doing this, I
know I would still contain my own water because the center of the yard will still be lower.
4 - Place sandbags in the areas where the retaining wall is missing, maybe this would help some?
I even thought about a drain, but there is nowhere to run it. We only have a drywell for storm water where the gutters drain into and I'm not sure how large it is or how much water it can contain. Since we are attached on both sides, there is no option of draining out to the front of my house.
Please let me know what you think is the best solution and then which might be the least expensive solution that can still help the situation.
Thank you so much!
ANSWER
You hit the nail on the head when you said that you know what the neighbor (on your left) did is illegal. TOTALLY! It is illegal to create a drainage situation where more water drains to a neighboring property than drained there before.
I believe your best solution is the following. Install a drain along the retaining wall so that any water coming from your neighbor's concrete yard will go into the drain. This should be a perforated pipe, laid along the wall. It should have a base of stone beneath it and the pipe itself should be wrapped in fabric to prevent dirt from entering. On top of the pipe should be a thick layer of stone to allow the water to seep into the pipe.
The pipe should be pitched to the dry well. All this being said, the lay of the land must allow this to pitch correctly at (ideally) 1/4 inch per foot.
I would have an engineer determine what the correct size should be for the dry well. You will then most likely have to have a new, larger dry well installed to accommodate the increase in water that it will absorb.
I would speak to a lawyer and have them send a letter to your neighbor stating the following:
1. What they have done is illegal.
2. They must pay for or share (your decision)in all legal and engineering costs.
3. They must pay for or share in the cost of the dry well.
4. If they refuse to do so, you will sue them.
Of course this is my opinion and having a consultation with a lawyer would be the first step.
I don't see any of the recommended solutions that you mentioned above working. An engineer or a good landscape architect will be able to determine if this drainage solution is feasible based on your grades. If I can be of further help, please let me know.