Drainage Systems and Stone Walls
by Rocco
(Melb Victoria)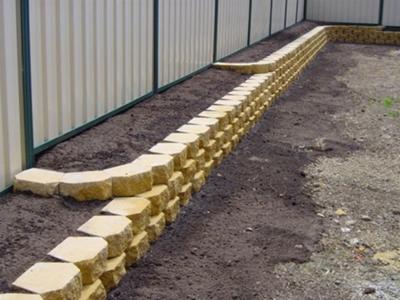 drainage system question
Here's a question about drainage systems and stone walls.


Was looking at your website. I'm from Victoria and need some advice. I'm building a house and my backyard is sloping a little. Approx a foot from the back of my fence to back of my house which is 10meters (32.8 feet) in distance.
Anyway I am going to remove all the dirt so my back yard is flat and same level as my alfresco area. Getting an Excavator to come do the job. Which means my neighbours around me will be a little higher than me. The pictures I added are examples of garden beds where neighbours are sitting higher and will pretty much be similiar to the situation I'm in.
My question is in the pictures above do you need to put in some Ag pipes for draiage? Or can I get away with not putting them in? My neighbours will be about a foot and a half higher than me.
I'm thinking of just using red gum sleepers or might use bricks as I have alot remaining from the house, haven't decided yet. My colourbond fence has sleepers running on the bottom of it.
I hope you understand of what I mean and if you can get back to me it would be very much appreciated
Kind Regards,
Rocco
ANSWER
Hi Rocco,
I received your question you posted to Landscape Design Advice regarding drainage systems and stone walls. I'm not sure I understand your situation correctly, so I wanted to check with you to make sure.
First of all, are the pictures you sent just arbitrary pictures, not of your yard or your neighbor's? I am gathering that your yard is higher in the rear and lower at your house area. You want to flatten it all so it is at the grade of the area around your house. Is this correct? Do you have a fence at your rear?
I assume you are asking how to deal with the rear area after it is leveled since your neighbor's will be higher and you will be lower at the property line.
Let me know if this is all correct.
Thanks,
Susan
REPLY
Hi Susan,
The photo are
not my backyard, but are are good example of how my yard will be. My back has a fence and my back neighbour and sides will be higher than me. So yes you did understand me, sorry if I confused you.
I'm guessing I will be about 1 foot - 2 foot lower which I will then build my garden bed. Do I need Ag pipes or can I get away without it. My whole back will be garden bed (16meters in length - 52.48 feet) and sides will be garden beds (10meters in length - 32 feet)
Regards,
Rocco
ANSWER
Hi Rocco,
For such a low wall, you really don't need any pipes. I am not familiar with AG pipes, but I am assuming they are some type of drainage pipes. However, you have to make sure that the lawn area from the wall to the house is pitched properly for drainage so that the water has somewhere to go.
1. You can pitch it all towards the planting beds but it should not exactly reach the wall. The soil at the bottom of the wall should be pitched back towards the house for a few feet. A swale should be created which is a channel in the lawn pitched in one direction, in your case, across the width of your lawn. See my page
Landscape Grading
.
2. Design the grading in the same way, but place the swale elsewhere...either in the middle of your lawn or near your house.
Piping is another way to go. I know I started out by saying you don't need any pipes because it's always better to drain naturally. Pipes can be at the base of the wall, near your house, or even a lawn drain where all water is pitched to this drain. A pipe is connected to the drain and led elsewhere.
All these drainage system ideas are assuming you have a lower area to pitch to. Legally, you cannot pitch water off your property in a way that creates more water than there originally was. If there is no area to pitch to, the other solution is a drainage pit, where water percolates down in one area.
I hope this was helpful!
Susan