drainage of rain water
by Charles
(Alexandria, MN USA)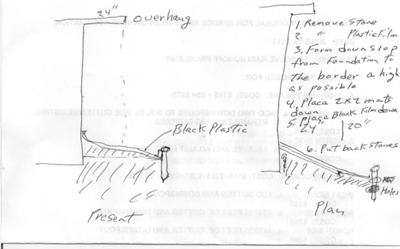 drainage water
This is a question about roof drainage water and how to correctly lead water away from the house.


I have a 40 foot long overhang of 2 feet with rain water coming down (no gutters) on a stone filled border of 40' by 44". The border is a black plasic into the ground about 4 to 6 inches deep. A black plastic sheet has been placed over the soil from about 4 inches up the foundation and over the 44 inches where it goes up the border to the top. Stones were then placed over that.
The crawl space has damp soil and some moisture inside it. I think the water is trapped in the black plastic and causing puddling which builds up and water is going over the plastic film at the foundation and causing this. I took the stones up in some places and did see puddling.
My idea to correct this problem is to purchase some 2'by 2' recycled rubber mats about 3/4 inch thick,(about $1.50 each) and build the maximum slope I can manage with soil. The siding is only about 6-8 inches above the lawn. I would put the mats down and seal them with caulk along the foundation and then put plastic film over the whole 44" and end it without going up the border. I thought it would be necessary to punch holes in the black plastic border so the water would not get trapped there.
The home is almost 11 years old but my feeling is that it may only be damp now but what will it be some time down the road. We are planning on putting up rain gutters but I thought I would do this first.
Any advise or help would
be greatly appreciated.
thanks.
Charles Pirila
ANSWER
Hi Charles,
If you want to solve this correctly, here is what I would do.
Install gutters and leaders. This will obviously eliminate a large amount of roof water going into this area.
You then have two options. Your idea, although I understand what you are trying to do, is not really the best. First of all, you don't know how long the caulking would last. Building up the soil is somewhat acceptable, but it is better to leave as much of the 6 to 8 inches of foundation exposed. Poking holes in the plastic is not a great idea. You are trying to create a solid channel out of non-permanent materials and I am pretty sure this will not work in the long run.
Back to the two options...
1. Regrade the soil away from your house to a lower area if possible. You can raise the soil along your foundation if you must, but as little as possible. to create a 2% pitch away from the house. This is the same as 1/4 inch per foot for proper drainage. See
Lawn Drainage
If this is not possible due to the fact that your land is too flat and you cannot get the correct pitch, consider the next option.
2. Install
perforated pipe
along your foundation. This should be pitched also at 2%. It should connect to sloped, solid pipe which would lead the water away to a lower elevations somewhere on or off your property, depending on township regulations.
I have used both of these solutions many times for clients and even have them both in different areas on my own property. If neither of these will work for you, there are other solutions.
Susan