Easy Steps for Designing Front Foundation Plantings
Ok, you are looking at your front foundation plantings and they just aren't doing it for you. (Or anyone else!)
But where to start? Follow these easy steps for a great look!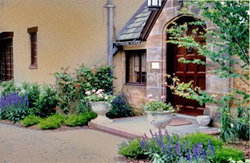 Plants Against The House – First Layer
Most of the time you will want to use evergreen shrubs. I like to use at least a few of the same type on either side of the front door. If you have another section of your house, you can change to another or keep it all the same.
Don't worry…I know this sounds boring but believe me it will just be the basis for an exciting design.
Some suggestions are (depending where you live, of course):
• Boxwood 'Green Velvet'
• Holly 'China Girl'
• Red Barberry 'Crimson Pigmy' (semi-evergreen)
These shrubs won't get too tall, but check your window height.


Second Layer – In Front of First Layer of Shrubs
You can just have two layers which works fine. Consider evergreen or deciduous shrubs for these plants.
You can also use perennials instead which I choose for this layer most of the time. I love color and textures!
Perennial Suggestions:
• Coneflower – easy to grow, drought tolerant and late summer flowers in pretty colors
• Lavender 'Hidcote' – lovely and fragrant
• Sedum 'Autumn Joy' – very tough plant…a must have!
• Fountain Grass 'Hamlen' – provides a nice change in texture against other perennials
• Yarrow = very pretty flowers and drought tolerant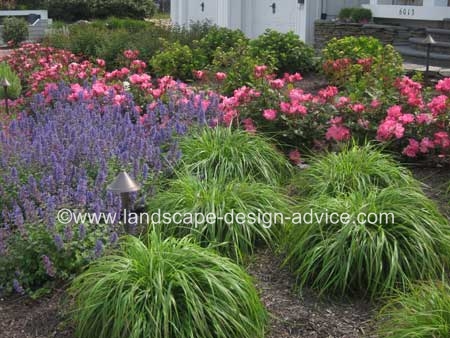 Third Layer (Optional)
Here you could use some low growing plants such as evergreen or perennial groundcovers. Suggestions:
• Pachysandra (likes some shade)
• Myrtle (also like some shade…love the little blue flowers)
• Dead Nettle (I know, awful name) but lovely leaves…some variegated…with pretty small flowers – likes shade
• Epimedium (perennial that likes shade)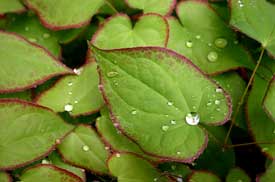 Epimedium


You also might be able to use some perennials that are lower than the middle layer, but not really groundcovers.
Some examples are Liriope, Geranium 'Roxanne', and certain Sedums...just to name a few.
House Corners
Trees! You have to frame your house and add some height. Also consider a small tree or large shrub near your front door.
Thanks for being part of my newsletter community!
Susan